The pioneer women who quilted over a hundred years ago did amazing work with the simplest of tools: scissors, needles, and pins. Up until the middle of the 20th century quilters were making pattern templates using cardboard boxes, re-drawing the shapes as the old edges wore out. Today we have a huge array of quilting tools and materials that make creating our masterpieces much easier than our ancestors would have believed. Here are 10 of the most significant game-changers in the quilting world, ones your foremothers would have loved to own.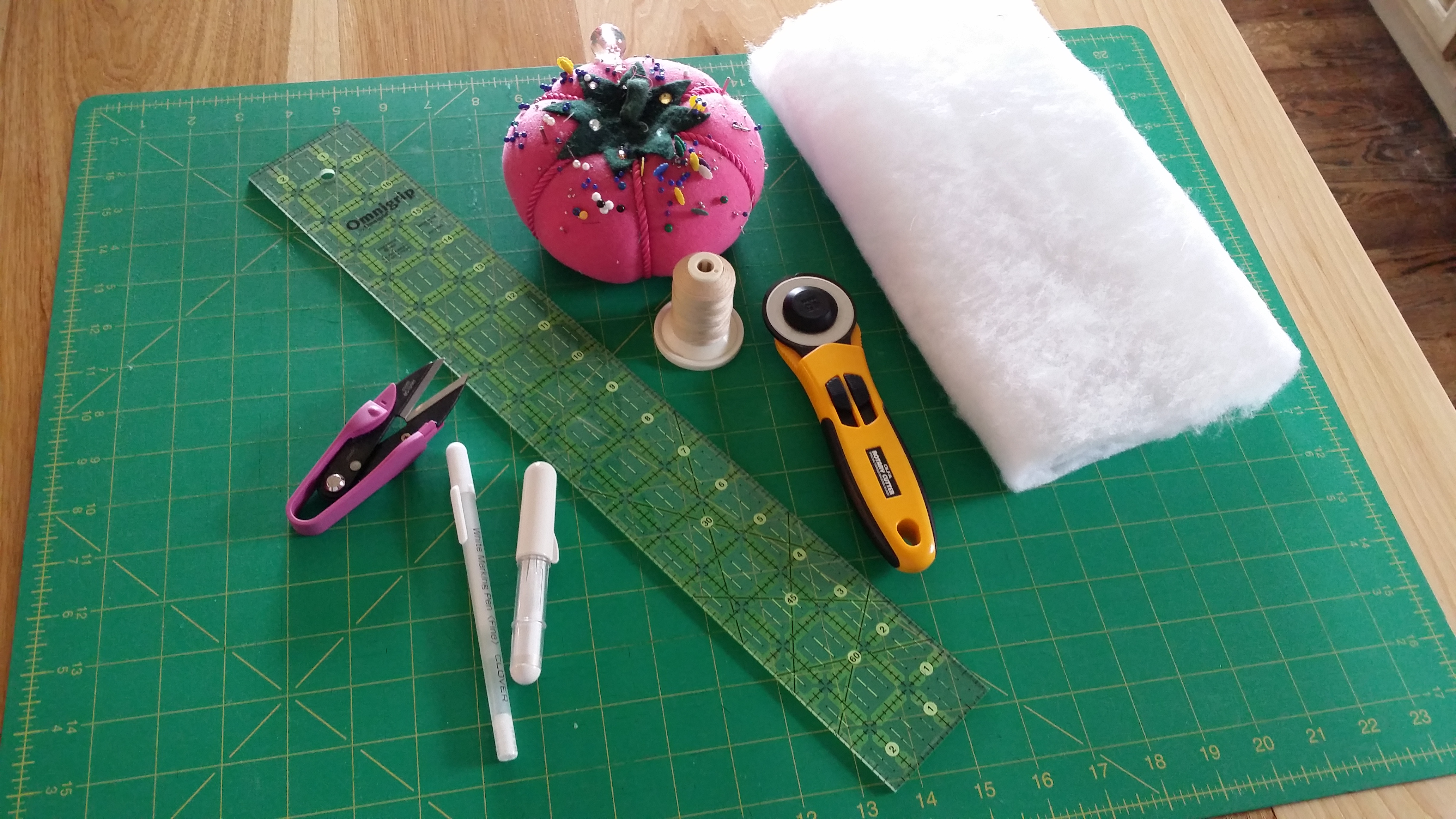 1. Fusible Webbing
This product made it possible to make quick home decor instead of spending months on a small appliqued wall hanging. For modern applique or for holding binding in place before stitching, you can't beat fusible webbing.
Related video: How to Applique: Fusible Applique
2. Rotary Cutters & Mats
Cutting out individual patches for a full-sized quilt could take days on its own. With a rotary cutter and mat you can cut multiple layers of fabric at once. Combine these tools with a sewing machine and you have quick sew techniques that can yield an entire decorative quilt top in one day.
Related videos: Rotary Cutter Safety and How to Change a Rotary Cutter Blade
3. Graph Paper
If you look at antique quilts, it's the rare one that has perfectly matched corners and exact straight lines. Without modern graph paper it was difficult for quilters to design patterns to the exact size. Today's designs can include dozens of intricate pieces in each square, all of which fit together perfectly

4. Acrylic Templates
Whether you're cutting multiple layers of fabric, tracing individual patches, or creating quilt lines on a finished quilt top, acrylic templates are the workhorse of the design world. The edges never wear out, they always stay the same size and shape, and you can combine basic shapes to create a world of different designs
5. Quilting Machines
Some purists choose to only quilt by hand, but if you want to finish an intricate bed quilt in less than a year a quilting machine is your friend. With the ability to move in all directions, quilting machines can be used to easily create intricate designs that only the most dedicated hand quilter would ever tackle
6. Freezer Paper
This late 20th century discovery may have been the single most influential reason for the resurgence of applique near the end of the last century. Instead of painstakingly pinning edges and turning them under while you stitch, with freezer paper you simply iron fabric onto paper and stitch around it, removing the paper when you're done. Crisp corners and smooth curves make for professional looking results every time
7. PVC Quilting Frames
Hundreds of years ago quilts were quilted only one way: on a large frame. Pioneer homes even had permanent frames that raised and lowered from the ceiling, allowing quilters to work on their pieces every day. Today's PVC quilt frames come in sizes from handy hoops to room-sized varieties meant for multiple quilters. Instead of sewing the quilt onto a frame, those with PVC frames lay the quilt on top and snap the holders in place. Lightweight and easy to break down, these frames make it easy to quilt anywhere.
8. Quilt Design Software
Our pioneer quilting ancestors relied on friends and neighbors to give them new quilting patterns. If they were lucky, they got a magazine or newspaper with a pattern once in a while. Today's quilter can create hundreds of designs on her computer, complete with fabric samples installed to show what the finished quilts will look like
9. Basting Spray
Crawling around on the floor to baste a quilt, whether it's stitching the layers together or using hundreds of safety pins, can take hours and will hurt your knees and back. Basting spray has eliminated the need for all that. Spray the backing fabric and smooth on the batting. Spray the top of the batting and smooth on the quilt top. The three layers will stay together until you've put in your last quilting stitch
Related video: Basting a Quilt
10. The Internet
The internet has spurred on a new level of quilt enthusiasm that even the 1970's resurgence couldn't touch. From online fabric stores and instructional videos to pattern websites and quilters chat rooms, the internet has transformed the quilting world into one big guild.
Learn more about our top picks for quilting tools in this helpful video "Quilting Tools You Can't Live Without" below:

Other videos you might like:
How to Mark a Quilt and Quilt Marking Tools
Quilting Tools: Selecting the Right Scissors
Essential Quilting Tools: Pigma Pens
Get a Grip with Quilting Supplies and Tools
What's your favorite modern quilting tool? Let us know in the comments below!