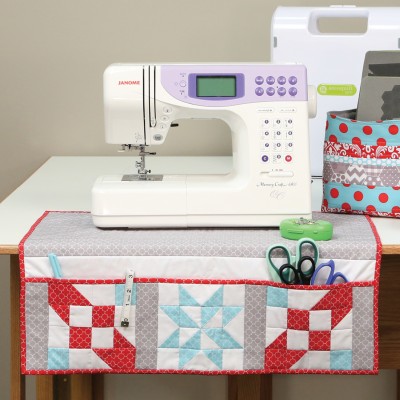 If you've ever fantasized about having all your necessary notions right where you need them, right when you need them, you're going to love the GO! Sewing Machine Organizing Mat. Featuring three roomy pockets perfectly sized for stowing scissors, templates, measuring tapes, and more, this handy organizer makes sure everything you need for a stress-free sewing session is always right at your fingertips.
As easy to make as it is attractive, the GO! Sewing Machine Organizing Mat is designed to work with an assortment of GO! strip- and shape-cutting dies to slice your work in half. And quilt pieces that have been precision cut using AccuQuilt's line of high-quality dies stitch together easily on the first try. Points are always perfect when you start with well-cut pieces.
The GO! Sewing Machine Organizing Mat slips easily beneath your sewing machine, serger, or GO! Big Electric Fabric Cutter and allows the handy pockets to hang securely over the table's edge. You'll never lose scissors again when you stow them neatly inside one of three roomy pockets emblazoned with colorful flying geese and pinwheel patches.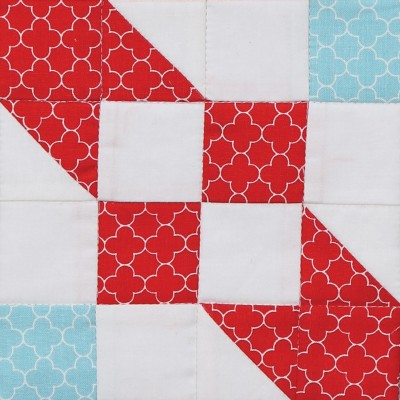 The perfect addition to your sewing or hobby table, the GO! Sewing Machine Organizer Mat is so easy to make, you can craft extras to slip beneath your television and corral your remotes or to slide under your printer to hold cartridges and print supplies. If you can stitch up an easy 16-patch, you can make this gorgeous organizer that takes household storage to the next level of fun. Perfect for quilters of all levels from beginner to pro, this is one project that everyone in the house will love.
Storage has never been cuter or more convenient than it is with this fun and easy-to-piece design. Best of all, you can download this pattern for free! Happy quilting!