When I decided to retire from teaching I was asked, "What will you do?" People wanted to know how I would fill my time when I opted out of teaching. I realized they also wanted to know how they would spend their time. After all teachers have a hurried, jam-packed schedule filled with children, bells, and the latest teaching trend. They think of themselves as teachers.
Besides teaching I was a writer. Mostly I wrote teaching and parenting articles. However, I had an idea for a book that had nothing to do with teaching and everything to do with quilting. I went to a teaching friend I knew quilted, and asked if she would help me to learn enough to put it in my book. She took me by the arm, literally as well as figuratively, into my first quilting class. I did finish writing the book, Our Family Quilt, and I discovered quilting.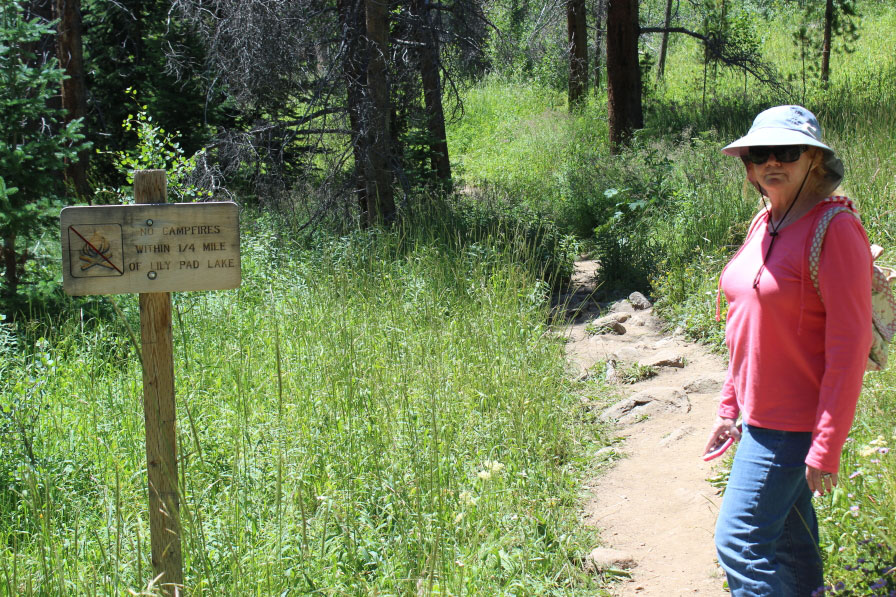 Rhonda Cratty is a quilter and author of the book, Our Family Quilt: The Fabric of Life.
I discovered that the art of quilting and writing work hand in hand to engage me thoughtfully in my work and made me healthier and happier every day. Although quilt making in the past was purely for practical reasons – warmth and economic motivations – now, quilt making is a creative artistry that blends with today's life styles.
Contemporary quilt makers fall into two groups. The first group loves every step of the process: designing or choosing a pattern, picking and buying the fabric, sewing the blocks, performing the quilting, and finishing the piece. The second group loves the creative process of designing, picking fabric, and creating a one of a kind top. These artists often have stacks of UFOs (Unfinished Objects) because they are always ready to create a new design. For some of us the final step in the process is sharing our creative work. I love to give them as gifts, while many quilters share at quilt guild meetings, shows, online blogs, and magazines.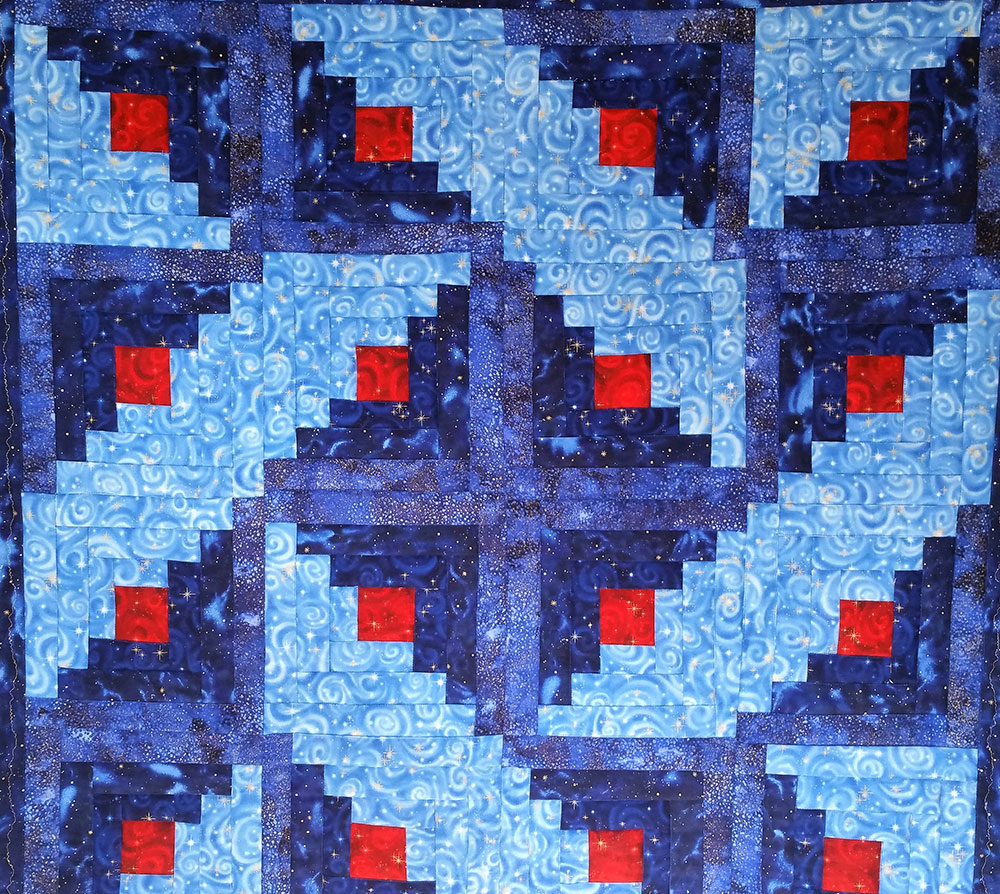 Fun fact: The cover of Our Family Quilt was the first quilt Rhonda ever made –a log cabin design. She just finished the quilt for her second book's cover – it's a disappearing nine patch.
I have met many quilting artists in guilds, bees, traveling, online, and through my book. They are happily engaged in their creative process – problem solvers who express themselves not only quilting but through a variety of media and activities as part of their everyday creativity. Quilters' desire for everyday creativity is a compulsion they maintain whether it's through inspiration in the garden, with woodworking, writing, painting, or traveling. Quilting feeds creativity for life, and quilters find life feeds their creativity for quilting.
I no longer think of myself as a teacher who writes. I think of myself as a quilter who writes. Everyday quilting describes my life. Whether planning, writing, blogging, cooking, or actually sitting down at my machine, in my mind I am quilter.
As I wrote about Grace and Audrey, it inspired me to quilt. As I worked on my quilting craft it inspired chapters in Our Family Quilt. I am now writing the second book in the series. I find myself writing and thinking about quilting, then in reverse, when I am quilting – I am thinking about my writing.
Today, may your quilting be your own springboard for a creative day.
– Rhonda Cratty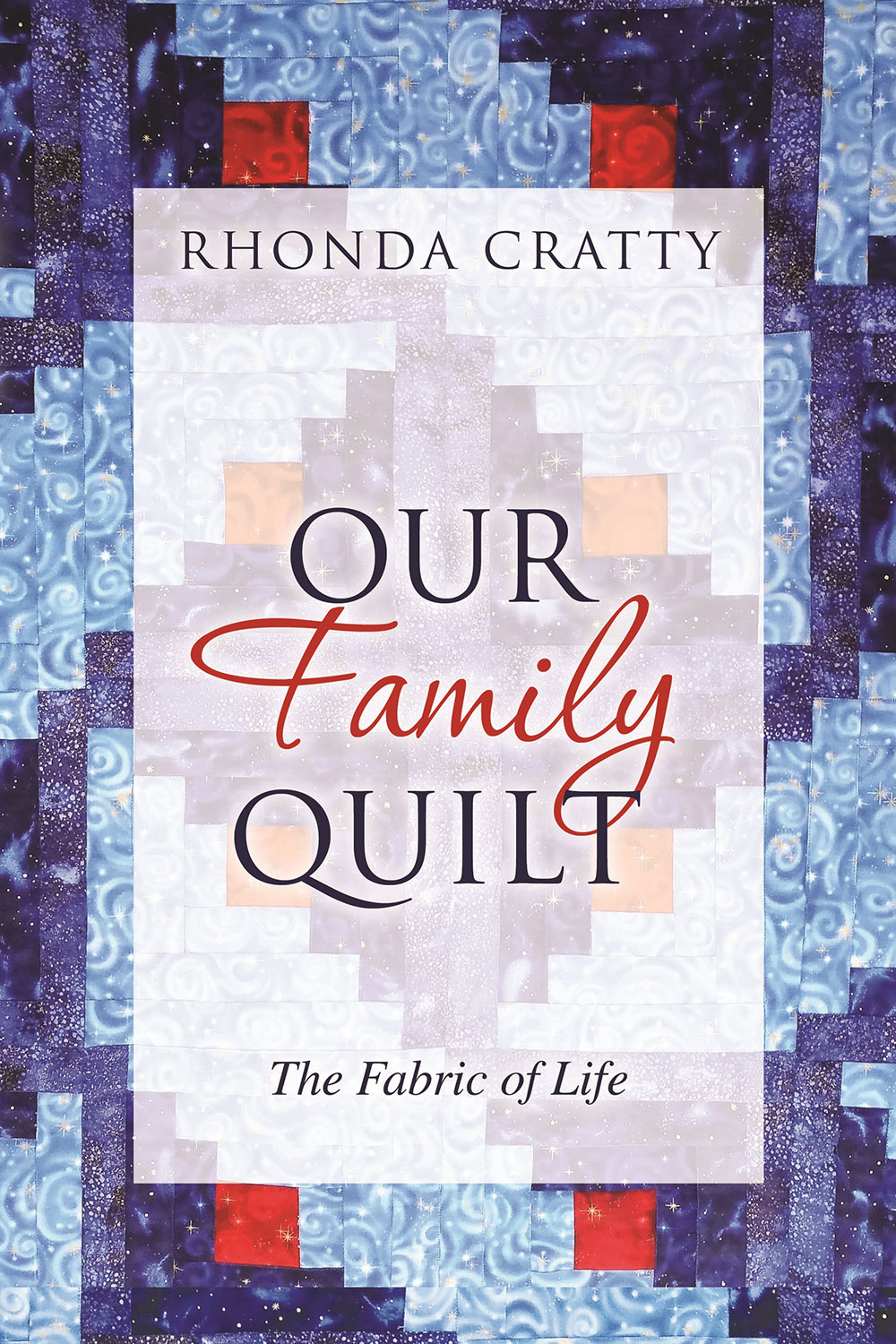 If you would like to read Our Family Quilt: The Fabric of Life , you can pick up your own copy on Amazon.