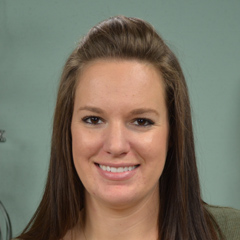 Tube Quilting with Jelly Rolls
Ashley Hough
Half-square triangles are a popular component in many different quilt designs. In this video, Ashley Hough demonstrates a fun, new way to make them using a technique known as tube quilting.

Fabric Preparation
To use the method of tube quilting to make half-square triangles, you must first start with two strips of fabric. You can either cut a strip of fabric to your desired width or you can use a pre-cut strip of fabric. Ashley uses a pre-cut strip of fabric known as a jelly roll for this tube quilting demonstration. Making half-square triangles with jelly rolls or other pre-cut fabrics, whether using this method or not, is a great way to save time when cutting out and piecing a quilt top.
Piecing and Cutting
Ashley shows how to align the strips of fabric with right sides together and stitch along both long sides using a quarter-inch seam allowance—basically creating a flat tube. Once both sides have been stitched, she shows how to use a square ruler to cut the tube apart to create the half-square triangles.
When using the tube quilting method, it is important to have a ruler that has a 45-degree angle line on it, as this is what gets lined up along the seam lines that were stitched on either side of the tube. Ashley shows how by moving the ruler along the seam lines of the tube, alternating between the upper and lower seam, multiple half-square triangles can be cut from the same tube. Ashley then shows how to either use thicker strips of fabric or piece together multiple jelly roll strips and create a different looking using the same tube quilting technique. Once you've mastered tube quilting, try creating a quilting block with jelly rolls to use up any extra strips.
16

Responses to "Tube Quilting with Jelly Rolls"
Popular All Quilting Videos videos
Explore videos by Ashley Hough