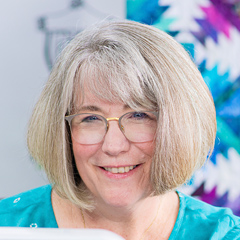 Trip to the Zoo Quilt
Colleen Tauke
Baby quilts are commonly one of the first projects in a quilter's career. In this episode, Trip to the Zoo, Colleen Tauke, and Laura Peters team up to present their version of a traditional "trip around the world" quilt that utilizes an inspirational zoo animal print. A second example of a llama/floral fabric provides additional inspiration for a more subtle and adorable feminine version. Let's get into the basics of quilt creation with best practices in mind.
Trip around the world quilt pattern.
In this presentation, your instructors will cover the topic of fabric selection. This includes color, value, scale, and texture. All these items are considered when selecting the fabrics to create visual interest, high or low contrast, and a focal point in the design. Learn what things to consider in your next fabric selection adventure. Even in a baby quilt, this is one area where many quilters become stressed, wanting just the correct combination.
Next, they will demonstrate the best practices in cutting and seaming. Success can be found in the fine details of construction. Even as a quilter with many quilts completed, those basic skills are vital to positive outcomes in every project you attempt. Colleen and Laura walk you through those elementary skills to assist you in adopting them as your own "best methods."
As blocks and rows are assembled, your instructors will stress the importance of pressing methods. They also demonstrate how best to align rows within a quilt for beautiful intersections and a neatly pressed, completed patchwork quilt top. They discuss some information on selecting quilt backings and highlight the quilting patterns selected to finish each style of a baby quilt.
For more quilting basics on accurate quarter-inch seam allowances and how to square up fabric for cutting, follow the links here.
Popular All Quilting Videos videos
Explore videos by Colleen Tauke