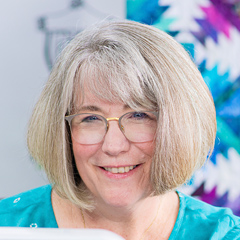 Reading A Pattern
Colleen Tauke
Quilts can be created from so many sources. They can be completely original, inspired by a pattern, or you can follow a pattern step by step without any variation. There are many things to consider. Your instructor Colleen Tauke will assist you on how to use a quilt pattern and how to choose a quilt pattern that fits your needs. Not all patterns are created the same, so knowing how to evaluate a pattern that fills your skill level and your learning style is vital to your success.
She will walk you through the wide variety of styles of patterns that are available. Books about quilting can be purchased that are very comprehensive and cover the entire quilting process, others contain collections of patterns usually built around a theme. Topics like traditional piecing, scrappy style quilts, modern style, and baby quilts. There are endless genres in the quilt world.
Quilters love value-added patterns, ones that provide additional instruction or detailed support. When it comes to reading a sewing pattern these are some questions you will want to ask yourself:
– What is the skill level or difficulty level of the pattern?
– Are multiple sizes of the quilt provided—quilt pattern sizes vary from miniatures to king bed?
– Does the pattern provide easy to understand diagrams?
– Is the pattern pre-cut friendly (if you are wanting to use pre-cut fabrics, either strips or squares)?
– Are alternative colors ways a part of the pattern?
– What is the cost of the pattern—books can be a value if numerous of patterns appeal to you?
– Are coloring pages included for creating your own color placement?
– What piecing technique is used—i.e., traditional, foundation piecing, appliquéing…?
– Are the directions overly "wordy"—this appeals to some, others prefer great diagrams? Postcard patterns are very brief and contain little in the way of diagrams or written directions.
– Does the pattern have a support video or website for additional instruction if it's a new technique?
The goal is a successful quilting experience in a complete quilt. Examine all materials before you purchase to see if the style of the pattern meets your needs whether you are a beginner, intermediate or advanced quilter.
Popular All Quilting Videos videos
Explore videos by Colleen Tauke