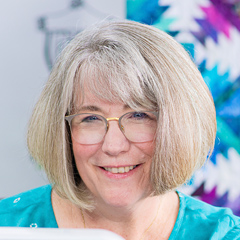 Raw-Edge Stack and Sew
Colleen Tauke
There are so many techniques and methods for making baby quilts. Join Colleen Tauke to learn a modified raw-edge appliqué design using a selection of fun flannels and the wavy rotary cutter blade. By cutting a variety of size blocks, you can create a "texture-rich" stack-and-sew baby quilt that will quickly become a kid favorite.
A discussion for making quick baby quilts with a balanced collection of prints and solids is included in this video. Prints are fun, but including quieter fabrics like solids and semisolids helps create a place for the eye to rest. Colleen introduces the "wavy" rotary blade for cutting a designated number of squares used in this baby quilt. She covers how to ensure a good cut, positioning the blade against the ruler, and storing a tool while this type of blade is inserted in the rotary cutter. The wavy cut, raw-edge appliqué squares add a secondary design and texture to this flannel baby quilt.
You will learn about stacking the squares, the stitching technique used to secure the blocks, and a brief discussion on thread color and stitch selection. Once the layered raw-edge appliqués are in place, you can arrange the blocks for a simple block to block construction using a standard quarter-inch seam.
This method can also be modified and used to make a picnic quilt. A wide range of woven plaid fabrics was used to make this utility quilt, one that could be used for picnics and car rides. This larger quilt, using homespun fabrics uses the same stack and sew technique as the baby quilt, begins with larger squares and includes more layers. Additional information on the yardages used for either quilt as well as the cutting details can be downloaded here.
For more on raw-edge appliqué or adorable baby quilts, click on the topics to find other informative videos.
Popular All Quilting Videos videos
Explore videos by Colleen Tauke