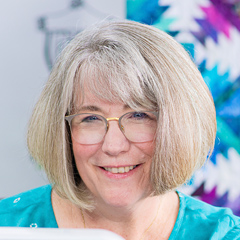 Petal Applique
Colleen Tauke
Layering fabrics to create a design in the quilt world is considered applique. There are a variety of ways to accomplish this technique. In this video, you will learn a method of using fusible interfacing to create a flower petal applique, similar to a football shape. Join Colleen Tauke, your instructor, for an alternative method that saves time and can be just as gratifying.
This flower petal applique pattern can be used to create endless designs. Arranging the shapes is only as limiting as your imagination. Using the template available in the download, you will learn the steps to creating a plastic template that is sturdy and reusable. The template was created with the thought of using pre-cut 2-½" strips as a coordinated fabric source. You will learn about how to place the template and trace the shape, creating highly visible stitching lines.
Next, you will learn which fusible interfacing is used and how to cut strips to pair with your traced flower petal applique shapes. A variety of fabrics in light, medium and dark is used to create this petal quilt pattern. The correct placement of the fusible interfacing is critical to the success of this method. Make sure to place the fusible side of the interfacing toward the right side of the fabric. Pin in a couple of places along the strip to prevent shifting during stitching.
Set your stitch length at 1.8 – a shortened stitch is used for this process and creates a more gentle curve than the default setting on your machine. You will learn tips for stitching around each flower petal applique and the best method for trimming seam allowances to reduce bulk.
You will learn how to snip into the interfacing layer only and gently turn each shape. You will see a demo of how to arrange the shapes and then press them into place with an iron. Then your instructor will walk you through the machine zigzag finish for the outer edge. Using invisible thread makes for a perfect finish for your next project.
Related video tutorial: Raw Edge Applique.
Popular All Quilting Videos videos
Explore videos by Colleen Tauke