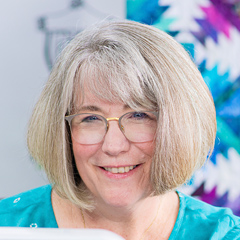 Panel Palooza
Colleen Tauke
Creating patchwork blocks is one way to make a quilt top. But what about using a preprinted panel as your inspiration? What are things to consider when using them as a centerpiece of your quilt? You can join your instructors, Colleen Tauke and Laura Peters, to learn where to begin. Panel quilts have become extremely popular. Fabric designers have created a wide variety of themed panels. Working with quilt panels makes a fun focus for your unique project and allows your pieced patchwork to enhance the quilt center. We invite you to join us as we present two examples of panel quilts with some variation in value placement and downloadable pattern/yardage calculated for your convenience.
In this video, your instructors will take you step by step through the process. Many quilt panels have unusual measurements, not always creating the "nice math" quilters typically prefer. We address this issue and suggest adding inner border strips to enable you to easily create the remaining patchwork using numbers commonly used in the craft. Numbers that are easily divisible by 2 or 3 are the most popular.
Your instructors will present three units that create the pieced inner border for the Panel Palooza project. Flying geese, hourglass, and snowball units are all used in this dynamic panel quilt design. This is excellent practice for making small units and learning to achieve consistent-sized units that fit together nicely. When possible, we focus on accurate cutting, best pressing practices, and nesting seams.
The project is completed with a second narrow border, similar to the first, and finishes with a wider outer border. Since narrow borders are a bit more challenging to apply, this project provides opportunities to sharpen your consistent quarter-inch seam. We are creating even and precise border widths. We also reviewed the machine quilting choices to enhance each final panel quilt project.
If you want additional videos about panel quilts and designing a quilt, please follow the links here.
Popular All Quilting Videos videos
Explore videos by Colleen Tauke