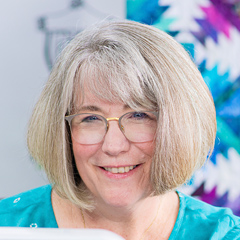 Four-Patch Prism Block
Colleen Tauke
The four-patch prism technique can create dynamic, bold designs using only one fabric. Join your instructor Colleen Tauke to learn all about the process. How do you audition fabrics that work well with this process? What are the things to look for in the "perfect" print? Not every fabric is right for this technique. You will learn to select fabrics in a new light as you imagine the endless possibilities for our adventure into the four-patch prism. The prism that is created is reminiscent of the kaleidoscope toy you may remember from your childhood. As you rotated the toy, endless colors and designs were created. Bring that enthusiasm to life as you make the four-patch prism.
Learn how to look for patterns and prints that have a variety of colors, the needed amount of quiet space, and the scale of design that allows for an endless number of unique blocks. These are critical things to consider when selecting a printer. Fabrics with very few colors can be used, but the four-patch prism blocks will have a more subtle impact. Those with more variety of colors will be more distinct when constructed. Using a hinged-mirror system, your instructor will assist you with how to evaluate fabrics. You will see which prints work well and how others may fall short. This includes large and smaller-scale prints and how strips impact the outcome.
You will learn about fussy cutting four identical squares and then consider the four possible construction arrangements. Since the fussy cutting can lead to biased edges, spray sizing or spray starch can stabilize the squares until the assembly is complete. We will review the piecing and pressing process of the four-patch block and how to create opposing seams for a perfect center intersection.
For additional videos that cover fussy cutting and how to use the fussy cut units, follow the links provided here.
Popular All Quilting Videos videos
Explore videos by Colleen Tauke