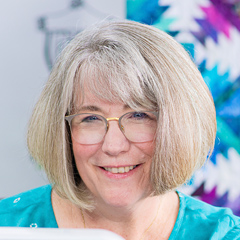 Disappearing Shoofly
Colleen Tauke
In quilting, we become familiar with common patchwork designs, such as the nine-patch, four-patch, churn dash, and shoofly blocks. Some have had other common names throughout history, yet they contain the same basic elements. We rely on these components repeatedly in designing new and exciting original creations, but what about cutting apart simple blocks and rearranging the units? We find ourselves fascinated by the possibilities in color, value, and placement of units. Join our instructor Colleen Tauke as we break down this process and examine the variations in the Disappearing Shoofly quilt.
The disappearing technique always begins by creating one of the basic patchwork blocks. In this video, we have selected the Shoofly block. Your instructor will present the process of making half-square triangles in the two-at-a-time method. This alleviates the need to cut and piece individual triangles, leading to higher accuracy. She will also walk you through the proper pressing technique for patchwork. Once those units are created, you will see the assembly of the shoofly block.
You have now completed the first half of the process. The disappearing technique requires us to divide this quilt block—in this case, into nine equal pieces. Note that because the math will get a bit challenging, the units are trimmed to a specific size so that all the units are uniform.
The shoofly block completely disappears as each unit is rearranged and rotated for multiple designs. This is where color, value, and position within the selected method can create endless possibilities. Cutting apart simple blocks opens up another new design avenue. Try your hand at the disappearing technique and enjoy the patchwork adventure.
For more disappearing instructional technique videos, visit our website for the Disappearing Pinwheel and Disappearing 9-Patch projects.
Popular All Quilting Videos videos
Explore videos by Colleen Tauke