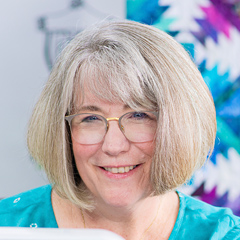 Disappearing Pinwheel
Colleen Tauke
Learning the basics of patchwork helps to build a great foundation on which to find years of enjoyment. After the basics, we begin to venture into new and fun techniques. The Disappearing Pinwheel quilt block is one that can lead to months of adventure. In this tutorial, you will learn the basics of preparing the pinwheel block that leads to a wide variety of options when you slice the block and rearrange the pieces as the disappearing pinwheel.
Join Colleen Tauke, your instructor, as she assists you in the cutting, marking and construction of the pinwheel block. She will explain how to nest seams when joining the half square triangle units for pretty points. Learn some valuable tips for pressing to reduce the center intersection bulk where many seams converge. This aids in the quilting process and minimizes the "volcano" effect that can occur.
Next, she will walk you through the cutting process in order to assist you in confidently splicing the block into nine equal parts. After cutting the units, each is trimmed so that all the units are identical in size. When working with large squares and making half square triangles, the math i.e. size of the finished pinwheel isn't easily divisible by three. Since we are cutting the block into three "nearly" equal portions in each direction, the trimming process makes for an easier joining of units.
The disappearing pinwheel quilt block takes on a wide range of dynamic designs. Colleen provides a variety of possible choices with a simple rearrangement of units created in the disappearing pinwheel realm. A simple rotation of a unit adds another dimension to the possibilities.
The disappearing pinwheel quilt block then is joined into a recognizable nine-patch construction. A quick review of pressing techniques leads to perfect opposing seams and the disappearing pinwheel block to complete. A block with loads of personality without ever cutting a triangle.
Popular Core Skills videos
Explore videos by Colleen Tauke