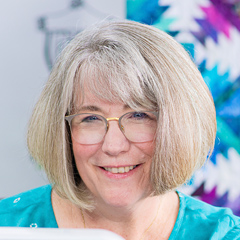 Binding Corners
Colleen Tauke
The last step in creating a quilt is the quilt binding. That also includes making the binding corners and that is an area many quilters find challenging. Join Colleen Tauke as she provides step by step tips and tricks for making those corners as beautiful as the patchwork it surrounds.
Preparing the binding strips, but cutting, piecing, and pressing them accurately gets you off to the best start. Now the focus turns to the application. Those binding corners are the focus of this video. Precision is always a good thing, except when you don't allow enough fabric to make the corner and change of direction when applying the binding. Be aware of your ¼" inch seam as you stitch the binding strips in place. As you approach the corner area, stop ¼" from the edge of your quilt top. Reinforce stitch here and break the thread.
As seen in the video, you now need to fold up and away from the quilt center to corner a diagonal fold. Then bring the binding back toward the quilt top and align the cut edges. The tip is to leave a bit of "extra" binding in the turn in order to create the perfect mitered corner. Place the binding back under the machine and stitch the next side of the patchwork quilt. Once all four corners are neat and square, Colleen provides detailed information on the finishing.
Hand stitching binding corners provides the quilter with more control of the folded binding and gives you the opportunity to hand stitch the mitered corner nicely on both the wrong and right side of the quilt. Take note of the stitch length, needle position, and the position of the quilt when doing this process. You will find methods to help you improve and master the art of quilt binding.
For more valuable information on how to make quilt binding and how to attach binding to a quilt, follow the links for great video lessons.
Popular All Quilting Videos videos
Explore videos by Colleen Tauke