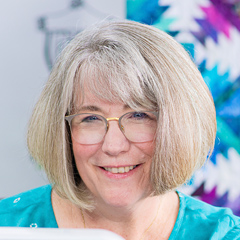 Quilt Batting Choices
Colleen Tauke
Selecting the best quilt batting becomes a very personal choice. Let's learn about a wide variety of batting styles and fiber choices as we journey into the world of quilt batting. Your instructor, Colleen Tauke, will introduce you to quilt batting to suit your particular desired outcome.
Knowing who will be using your quilt and how it will be used does impact the batting a quilter selects. Will the quilt be washed often? Will the quilt be displayed on a wall? Is this a "utility" quilt that will be handled nearly every day? How dense will your quilting be? Do you prefer a soft drape and "hand" to your quilt? These are all things to consider when selecting a quilt batting. Each fiber type reacts a bit differently depending on how you answer these types of questions.
You will learn about the various fiber contents available for purchase. They range from 100% cotton batting to a blend of 80/20 and 70/30 cotton/polyester blends. Then there is the grouping of 100% polyester batting and a wide range of loft or density. Your quilt batting can be as creative as your patchwork quilt top. Other batting fibers include wool, bambo and those created from recycled plastics.
Your instructor discusses the best batting for machine quilting, longarm quilting and hand quilting. You will learn about the bonding agent, "scrim" that is applied to the wrong side of batting and how that impacts the quilting process.
Whether you are a fan of high loft, fluffy quilts with minimal quilting or a traditionalist at heart and love the light, "crinkled" look of a well-loved quilt, there are many choices on the market. Learn all there is to know before you select the best batting for quilts you create.
For additional videos, just follow the link to learn about piecing together quilt batting and cleaver uses for quilt batting scraps.
Popular All Quilting Videos videos
Explore videos by Colleen Tauke