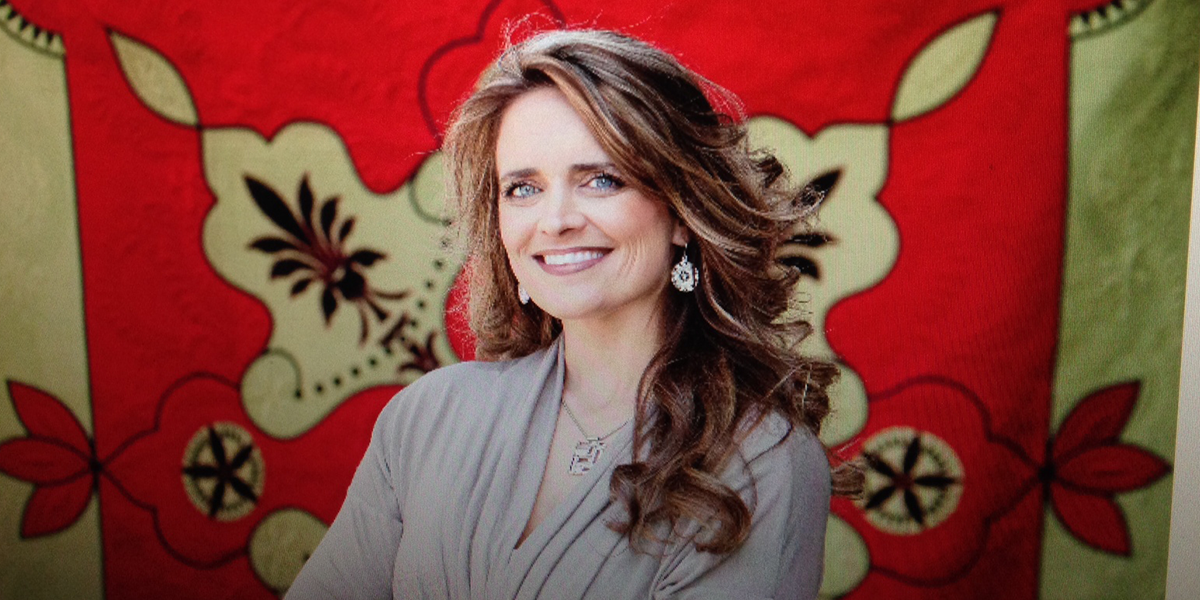 We couldn't be more excited to kick off another quilt block challenge! Over the course of nine weeks, we will be creating nine blocks, resulting in one beautiful quilt. We are also thrilled to introduce you to the talented Gina Perkes of The Copper Needle. Gina designed the quilt we will make in this challenge and will also serve as the host over the nine weeks, checking in with participants in the challenge Facebook group.
Gina operates her shop, The Copper Needle, an Innova dealership, and training center in Payson, Arizona. In her nearly two decades of quilting, Gina has won awards such as the Best Longarm Machine Workmanship award at the AQS Paducah show, and her Nostalgia quilt is part of the America Quilter's Society collection displayed at the National Quilt Museum in Kentucky.
If you haven't signed up for the next quilt block challenge, you can do so here! Each block will be sent via the National Quilters Circle email newsletter. Be sure to connect with Gina on Facebook and Instagram, and visit The Copper Needle website!
National Quilters Circle: How long have you been quilting, and who taught you how to quilt?
Gina Perkes: I've been quilting for twenty years. I learned to quilt while pregnant with my second child. He was a summer baby and, living in Arizona, I needed an indoor activity for that last trimester. My mother and I took a beginner piecing class at the local quilt shop. I caught the bug immediately and have been addicted to quilting ever since.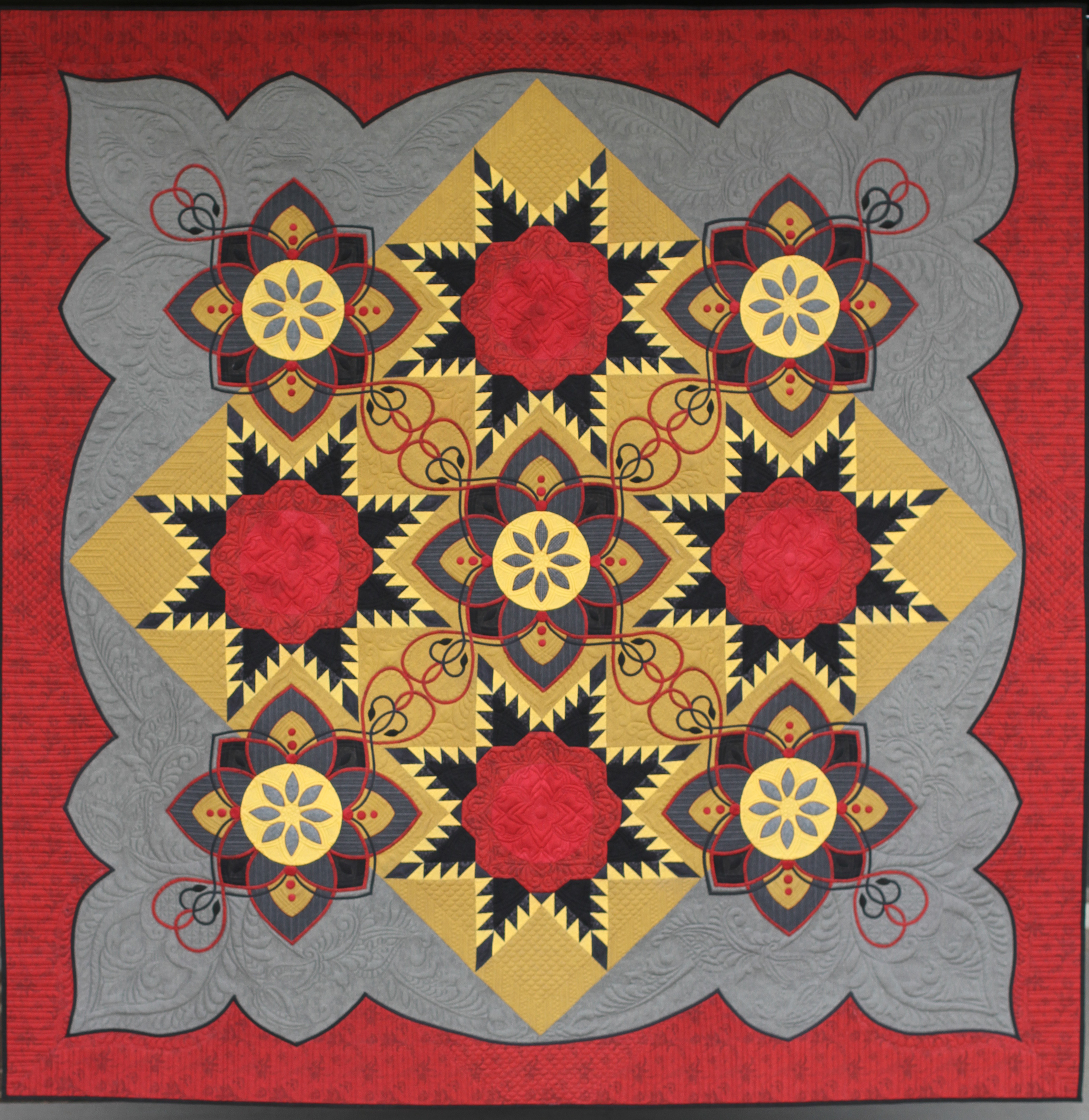 NQC: What was your first quilting project?
GP: What was your first quilting project? My first quilting project was a bed quilt for my daughter. It was a snowball block pattern. When I finished quilting it, I was too terrified to bind it so I added a long ruffle to hang over the sides of the bed. I've definitely gained patience and confidence since then.
NQC: Tell us about The Copper Needle.
GP: The Copper Needle is the quilt shop and INNOVA longarm dealership that I own in Payson, AZ. I opened the shop two years ago and have expanded twice in that time. It is very much a destination shop where we have many out of town visitors. Payson is a small, mountain town where Phoenix quilters like to come to escape the heat in the summer time. My shop is always happy, friendly, creative, and colorful. Visitors love the positive energy and cheery fabrics!
NQC: What do you like to do when you're not quilting?
GP: When I'm not quilting, I like to spend time with my family. We are a very close family starting with my Grandma (who lives across the street) down to my three children. We like to hike, boat, paddleboard, and other outdoor activities.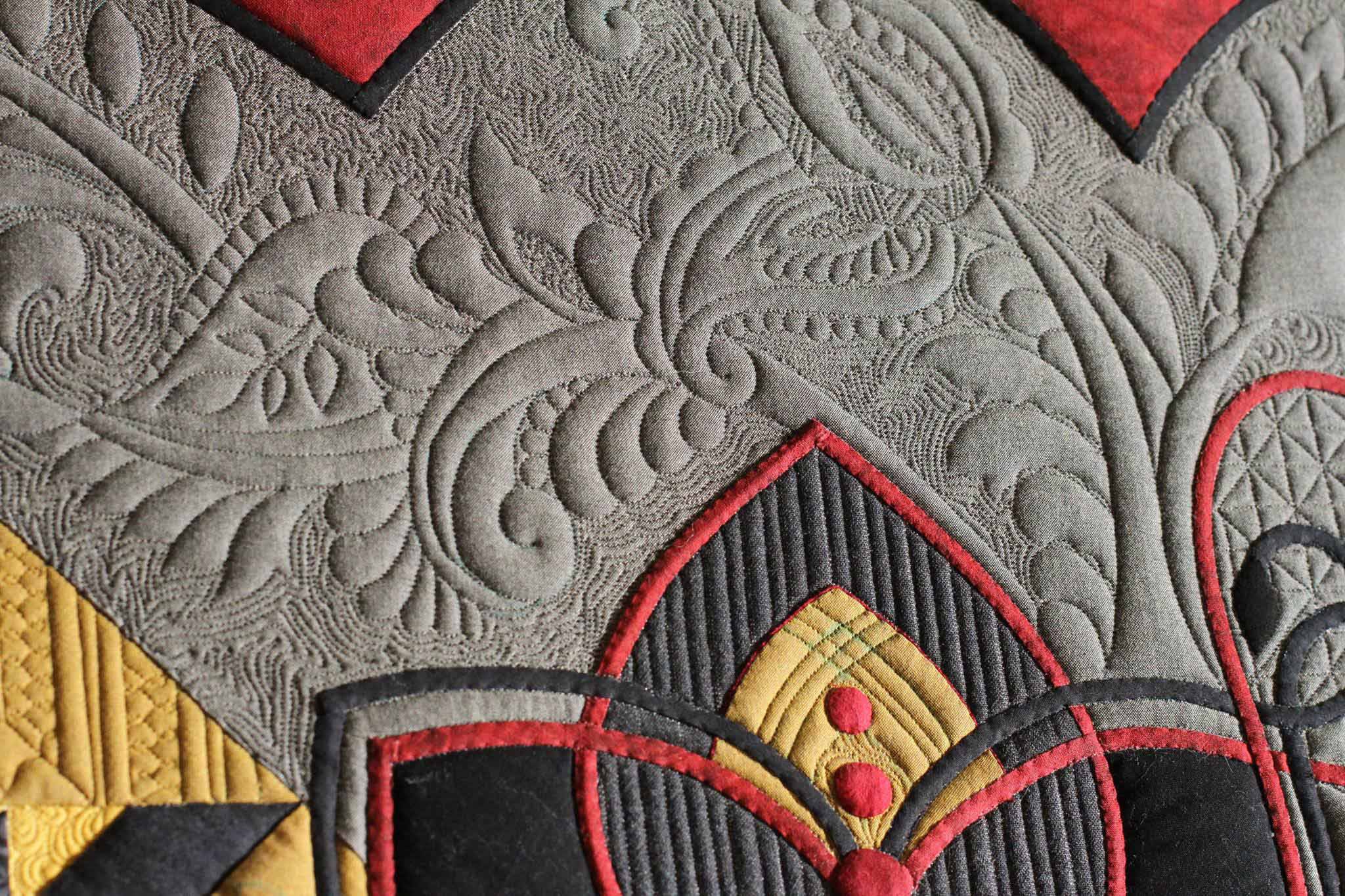 NQC: What are you currently working on?
GP: I'm currently working on a multitude of projects and ideas. I tend to have many things going on at one time. Organized chaos is a good way to describe my creative process. I'm working on writing book number five (machine quilting with rulers), collaborating on a show quilt with an incredibly talented applique' artist from Australia, and growing my business.
NQC: What project have you been most proud of?
GP: I am most proud of a quilt that I created in 2014, Nostalgia. It received a purchase award at the AQS Paducah show for the best longarm quilting. It now hangs in the National Quilt Museum. This was a dream of mine that came true. The quilt was very therapeutic for me as I worked on it as I was working through personal difficulties. It parallels the healing process in many areas of its design.
NQC: What's your sewing room like?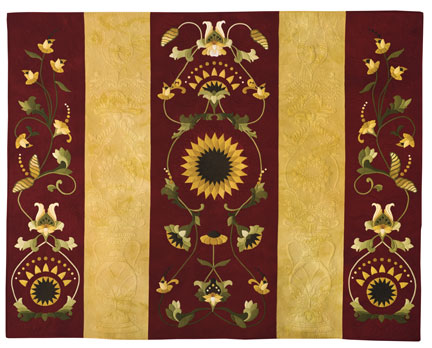 GP: My sewing room is always messy. Always. If I clean it, then I'm immediately inspired to make something new which means making a new mess. My mind tends to jump around quite a bit. I allow my creativity to evolve so this sometimes results in fabric and threads everywhere!
NQC: What kind of sewing machine(s) do you have?
GP: I have two machines – a BERNINA 790 (for home) and a BERNINA 830 (for shop). I quilt with an INNOVA 22" longarm machine.
NQC: If you could create your dream quilting space, what would it be like?
GP: My dream quilting space would be filled with natural light overlooking a lake. I think that having great natural light can be very inspiring and helpful when working. I'd also love for some person to magically appear and create an organized system for my sewing room….I can keep wishing I suppose.
NQC: What's your favorite type of fabric to work with?
GP: I like to work with fabrics that are solid colored or read as solids. I'm not partial to a particular manufacturer though Michael Miller's Cotton Couture is pretty awesome. I like to stay focused on the piecing design and machine quilting more than the fabric print.
NQC: What's a new technique or trick you learned recently?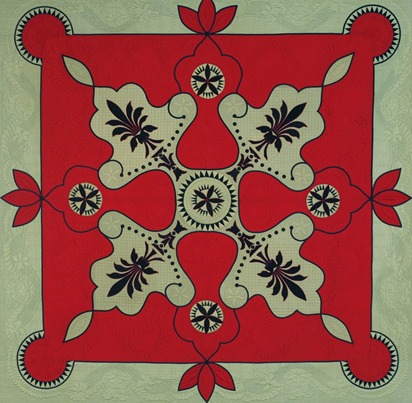 GP: I recently learned a great way to machine bind both sides of a quilt. I usually hand sew to the back but am quite impressed with the look of the new method my grandma has come up with.
NQC: What quilting tip has changed your life?
GP: Using a fine thread in the bobbin changed my life. This tip mainly applies to machine quilting which I thoroughly enjoy.
NQC: What would you say to someone who's just getting started in quilting?
GP: To someone who's just learning to quilt I'd say, always remember to: practice, persevere, and play. These are the three P's I live and teach by. Many people want to be good the moment they start and become discouraged when they aren't achieving perfection. It's important to allow room for error and learning. I love to look back at my first works and see where I've grown, progressed, and evolved. I've had fun every step of the way which is the most important aspect of quilting.