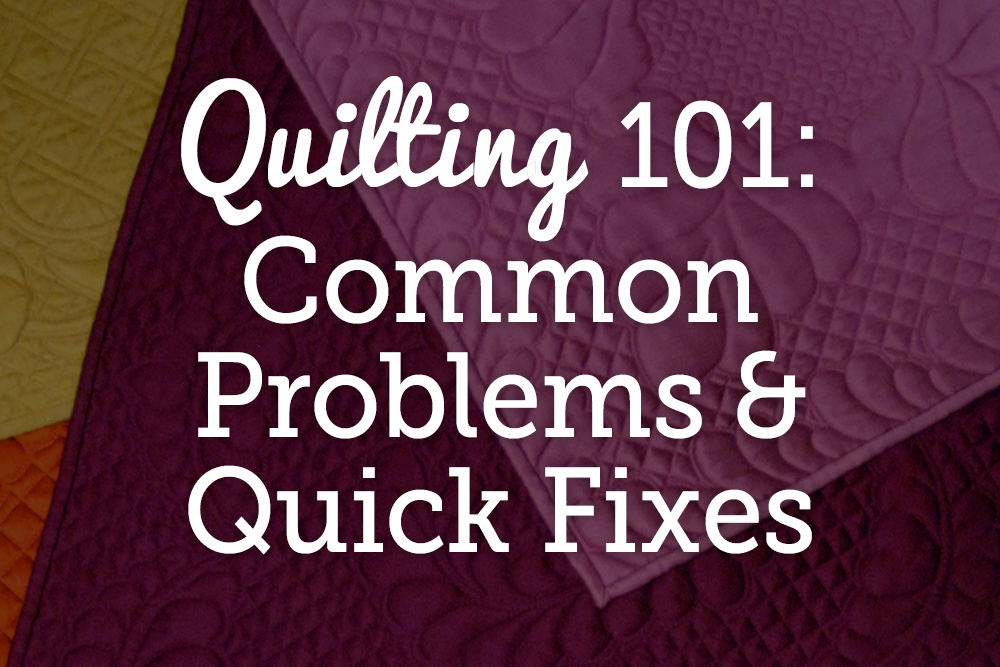 Not all quilters are created equally. Everyone has their own unique personality and style, and this shines through with every quilted creation. There are however some common problems all quilters face at one point or another. If you are a beginner quilter, or even a more experienced quilter looking for a handy tip or two, read on to learn about some of the common problems quilters may face and the quick and easy ways to fix them.

This is often a problem that many people make when they first start quilting. It might seem like you have enough fabric on hand for all components when you first start a project, but then you inevitably run out at some point. This is a serious problem especially if you have special ordered your fabric and you can't just run out and grab some more. Technology to the rescue here. There are some great quilting apps that can help you measure correctly. QuiltingCalc by Robert Kaufman Fabrics is a neat one to try. It's free to download to your Apple or Android device. You could also use Quilt Wizard, which even has a part of the app that will allow you to download your fabric pattern to better map out your finished quilt. The cost of this app is $4.99, and is only available for Apple devices. Checking your measurements multiple times will help you once you get started, but having extra fabric on hand at all times will help. You can always use the extra for future projects, or share it with your quilting friends.

Related video: Tips for Determining Quilt Measurements



One of the more annoying aspects of quilt making is uneven lines. This common problem is mainly due to the fact that some fabrics tend to stretch and pull, so while you think you are sewing in straight lines, you really aren't. You might even have to go back, rip out some stitches, and start over. This can be very frustrating. A walking foot on your sewing machine is a good solution here. While it's not completely necessary that you have one, it will definitely help move all those layers of fabric smoothly and evenly through the feed dogs of your machine. Also known as a quilting foot, this type of attachment is often used for straight line quilting and will sometimes have a channel guide that you can attach to ensure parallel quilting is evenly spaced. Another simple solution is painters tape. All you do is tape your lines to give you a better guideline on where to sew in straight rows. Plus, it's easy to remove, and won't hurt your fabric or leave sticky marks on it.

Related blog: An Ode to Blue Haired Quilters



You don't want to be in the middle of a quilting session only to have your thread run out. The easy solution here is to always remind yourself to check your bobbin before sitting down to the machine and replace if getting low. If you do happen to run out though, or your thread snaps while quilting, here is what you can do: undo just enough of the stitches so that you can knot it, and then tuck it into your batting. That way when you start up again, it won't be noticeable. But how to prevent your thread from snapping in the first place? If you live in a very dry environment, you will be especially prone to breakage because the air makes your thread dry and brittle. To infuse some moisture back into your dry thread, simply place it in a plastic baggie with a damp paper towel and put the baggie in the fridge or freezer for a few hours to help the thread absorb the moisture faster and more evenly.

Related blog: Keep Your Thread Long and Strong



A quilt that's too puffy can sometimes take on more of a pillow look than the blanket or showpiece look that you're going for. If this is the case, there's an easy fix. If your batting is too fluffy, just pick up a product called Best Press by Mary Ellen Products, and gently spray it over the entire quilt. Then on low heat, iron the quilt so that the heat gently presses it down to be flatter for you. That way it's easier to hang if you choose to showcase the quilt in that manner. This is especially helpful if you are going to be exhibiting your quilt in a show.

Related video: How to Hang a Quilt on a Wall



If your stitches on the top of your quilt start to look irregular, it could be the type of thread you're using. It's always a good idea to use 100 percent cotton thread for your bobbin, even if your top thread is more decorative and not as heavy or durable. Those gorgeous metallic threads can sometimes be difficult to stitch with. Using the right kind of thread to begin with can be immensely helpful. A 50 weight cotton thread is usually a good choice, because it won't pull or lint up. For hand quilting you are going to want an even heavier thread, usually around a 28 weight count. Remember the lower you go in number, the stronger the thread will be!

Related video: Choosing the Right Quilting Thread

Armed with a few quick fixes, you'll be well on your way to tackling those annoying and sometimes frustrating problems that quilters often face. We want to hear from you now – what are your best tips for quilting fixes?

Have something to add? Leave a comment or email editor@nationalquilterscircle.com.