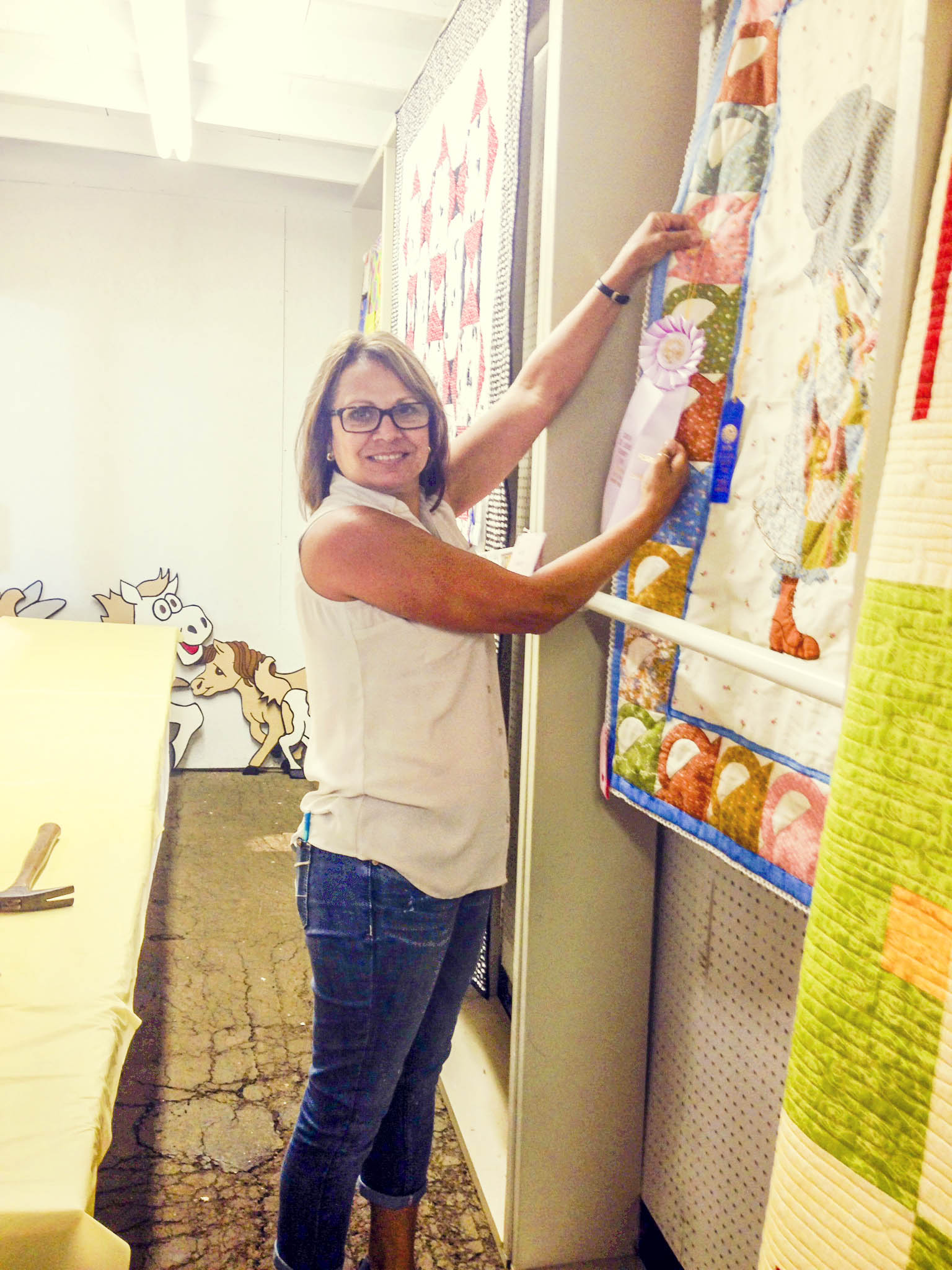 Kelly Pederson Hanson is a familiar face here at National Quilters Circle – you've probably seen some of her videos or read some of her articles. She's also a charter member of the National Quilters Circle Ambassador program! We sat down with Kelly and asked her to share a little about herself, her quilting style, and her quilting inspiration.
Kelly has been actively quilting for the last twelve years. This may not seem like a long time, but after taking countless classes from instructors all over the globe, Kelly has developed a well-rounded repertoire of techniques and become an instructor herself. She is a certified
Quilt in a Day instructor
, and has studied under the likes of Eleanor Burns, Claudia Pfeil, Karen McTavish, Dawn Cavanaugh, Philipa Naylor, Sherry Rogers Harrison, Irena Bluhm, Frieda Anderson, and Helen Stubbings, to name a few. Kelly is also a long arm quilter and spent three weeks in Salt Lake City, Utah, at Handi Quilter University. Kelly admits that she is passionate about her traditional quilting roots, but she also loves to dabble in art quilts, fiber art, and modern quilts. As with all quilters, Kelly has a very large stash which she offers to her customers in her sewing studio/boutique. Kelly is a member of several quilt guilds in the Midwest, including
Minnesota Quilters
. She loves to work with young children and teaches quilting beginning at six years of age. Her charity quilting includes
Quilts of Valor
and several local childrens hospital and women's shelters. Kelly is currently working with teens from the Amber House (a facility that helps teens dealing with depression) to develop an interest in quilting. Recently, Kelly began a two-year commitment to
International Quilt Association
as Vice President of Public Service. On a personal note, Kelly is married to Dave Hanson, and has five children, seven grandchildren, three dogs, three cats, and two horses! She lives on a picturesque lake front in Duluth, Minnesota, which provides a beautiful backdrop for the students who come to her home studio for lessons. Kelly is an avid traveler and loves making new friends on her quilting adventures.
Now let's get on with the questions!
NQC: What do you like to do when you're not quilting? KPH: I love to spend time with my family! I feel blessed to have the flexibility to watch the grandbabies for my children while they work. Who taught you how to quilt? My aunt Rosemary (who was an avid quilter) passed away in 2000, leaving me her fabric stash and all the equipment I needed to begin. So, I decided start quilting! I've been taking classes non-stop since the fall of 2003. My first lessons were with my close friend, Kathy Norgren, and I eventually moved on to classes from local quilt shops. My quilting progressed and I graduated to quilt shows, taking private classes from well-known quilters. In my first three years of quilting, I had made over 180 quilts! Practice makes perfect!
What was your first quilt project? An Overall Sam applique quilt that I gave to my first grandson, Jeremiah, on the day he was born. He is the reason I started quilting. He and his cousin Gabby have enjoyed sewing time with grandma. What quilt project have you been most proud of? It was my very first memory quilt, which I am now known for. A dear friend had lost her son, and her grief tore a hole in me. When she went to clean out his apartment, I asked her to bring back his clothing. He even had a tuxedo in the mix. I made the center of his quilt with all of his shirts and special clothing, and then bordered it with the tuxedo material so it looked like a slide show of his life. We put it in the State Fair for people to see, and it placed. My friend was thrilled.
What are you currently working on? Now that's funny! I am never working on just one project… I tend to work on many at one time. Currently, I have 6 quilts in progress. I also have 8 quilts ready to go on my long arm machine. Have you ever entered any contests or competitions? What was the outcome? Yes, I have entered many local contests and competitions. I am blessed to say I have never come home empty handed! I have won first place in most competitions that were local guilds and local shows. At the Minnesota Quilt Show 2015 I was given a faculty award for my quilt "Transitions." This was quite an honor, as the award came from a show judge/quilt appraiser.
What's your sewing room like? Currently it is quite messy… as I am working on many quilts. But it is well thought-out. Sewing machines strategically line the outer rim of the room, giving way for open space. I even have a wet bar with fridge and television, so I never have to leave! Other amenities include a sauna (which I use as a lovely storage room) and a full bathroom.
What kind of sewing machine do you have? I own a 440 Bernina, an 880 Bernina, Juki TL98, Juki 600 Quilters Edition, Juki Serger, six Singer Featherweights, nine various vintage machines, and a Fusion Handi Quilter Longarm. All the machines work and are sewn on regularly. My granddaughter Gabby loves to use my ruby Featherweight. I recently purchased her a lovely vintage White sewing machine with cabinet and stool. Describe your dream sewing room/quilting space. I am living the dream! With two spacious studios in my home overlooking a picturesque view of the lake, it couldn't get any better.
What's a new technique or trick you learned recently? I love the piping hot binding that I was taught by Susan Cleveland. It is a technique you can use on curves and finishing techniques on your quilt. What quilting tip changed your life? When you have a four patch block, I like to spin my seams to reduce bulk.
What would you say to someone who's just getting started in quilting? Take classes! Most quilters get frustrated because they have never learned the basics of quilting. A few beginners' classes are worth the time and money. Also purchase the book by Carol Doaks called Your First Quilt Book, because it should be. Do you have a favorite quilting shop or website? My two favorites are City Quilter in New York City and Hannah Johnson's in Duluth, Minnesota. I love to travel to many different quilt shops; they all have something fun to offer.
Whose quilting are you in love with right now? That's a hard one! I love to see all the various quilting techniques out there. I follow most of the show winners and instructors (that's how we learn). To name a few: Karen McTavish, Claudia Pfeil, Jamie Wallen, Mary Olson, Angela Walters, Cheryl Sleboda… the list just goes on and on. They all bring something to the table that I can learn from!
To learn more about Kelly and follow along with her quilting adventures, check out her website: www.quilteranonymous.com. Want to join Kelly as a National Quilters Circle Ambassador? You can apply here.
Happy quilting!
Have something to add? Leave a comment or email editor@nationalquilterscircle.com.
4

Responses to "Quilters We Love: Kelly Pederson Hanson"