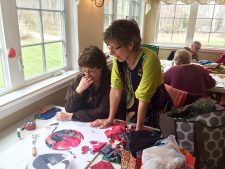 Meet Susan Carlson, an amazing quilt artist, and author of the blog Susan Carlson Quilts. She was nominated as a top blogger in National Quilters Circle's 2018 Blogger Awards competition, and won the category of Best Art Quilt Blog. We wanted to get to know Susan a bit more and learn what fuels her quilting passion. Read on!
NQC: How long have you been blogging?
SC: Weekly, since November of 2015. We haven't missed a Saturday.
NQC: What do you do when you're not quilting or blogging?
SC: I try to enjoy where I live in the state of Maine: taking walks with my husband and dogs, spending time with my sister and parents who live nearby, and in the summer raise and release monarch butterflies.
NQC: When did you start quilting, and who taught you how to quilt?
BH: My mother is a seamstress and took up quilting in the 1970s. So I was always around fabric. However, I started using fabric as an art medium in college projects, evolving into the quilted fabric collage that I now do.
NQC: What was your first ever quilt project?
SC: A miniature quilt for my Little Kiddle dolls.
NQC: What are you currently working on?
SC: A fabric collage portrait of my niece, as a monarch butterfly.
NQC: What's your sewing room like?
SC: I am very lucky to have a dedicated 32 x 28 foot studio with space for work tables, drawing board, pinning wall, sewing machine table and storage.
NQC: What quilt project have you been most proud of?
SC: The series of quilts in my "Specimens" exhibit which had its debut at the 2016 Houston International Quilt Festival, and is currently included in my fabric collage show at the New England Quilt Museum, through the end of 2018.
NQC: What kind of sewing machine(s) do you have?
SC: A well loved and dependable Bernina 1530.
NQC: Describe your dream sewing room/quilting space.
SC: I think I have it already!
NQC: What's your best or favorite tip for quilters?
SC: Take a playful approach to fabric and experiment with different methods and techniques to discover what you enjoy doing.
NQC: What would you say to someone who's just getting started in quilting?
SC: You can never have too much fabric. And save the scraps.
Want to hear more from Susan? Make sure to check out Susan Carlson Quilts to stay up to date with her quilting adventures.

Happy quilting!

Get in touch! Leave a comment or email editor@nationalquilterscircle.com.

2018 National Quilters Circle Blogger Awards sponsored by: