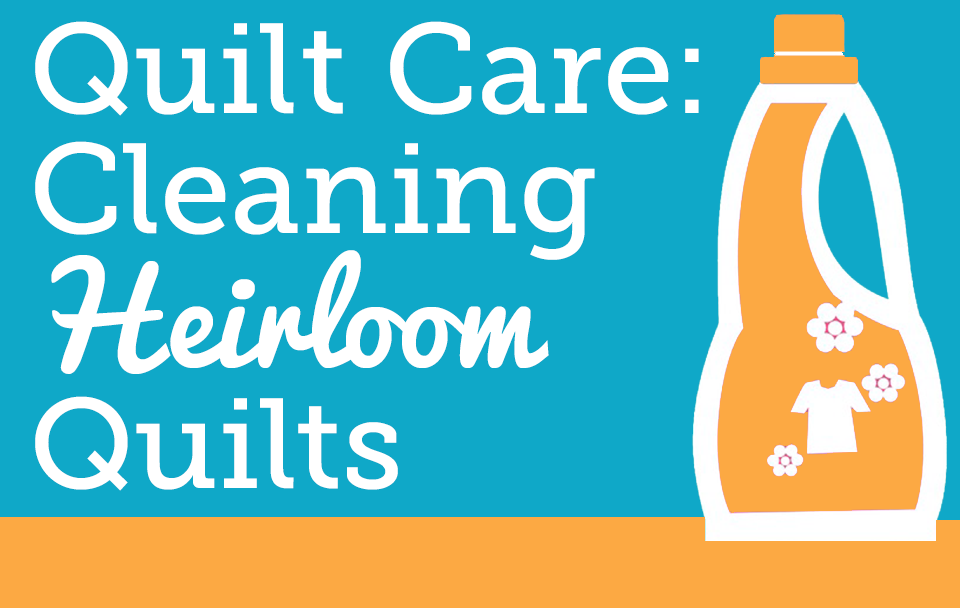 So you've just finished your first quilt and are ready to give it that cozy look by tossing it in the washing machine. Or, you have a beloved handmade quilt that could use a good washing from use. Before you head to the laundry room, there are some important things to consider. In this article, we'll discuss what you need to know about how to clean a quilt and wash it.
The following rules apply primarily to our heirloom quilts – quilts that are meant to be enjoyed visually rather than used – but the tips are helpful for our more "practical" quilts as well. However, I'm a firm believer that every quilt we make is an heirloom quilt, meaning it is (or will be!) a valuable piece that will be in the family for years and years. Remember that every time you wash a quilt, it adds a little wear and tear and eventually can take off years of life for that quilt. If we want to preserve them for future generations we need to be careful about how we care for them.

Essentially, it's a personal choice for the quilter whether or not a quilt should be washed like we would wash our clothes or other linens. If you prefer to wash your quilts, the simple process of machine wash in cold water and hang to dry is a good choice. If you prefer to take a more preservative approach to caring for your quilts, the following steps will help you out.
Rule #1: Never wash! (or try not to…)
A good rule of thumb that you may want to live by is to never wash or dry clean your heirloom quilts because you may be causing more damage than good. I tend not to wash the quilts I have made because I have taken classes that talked about how machine washing distorts the fabric and batting and can wear on the thread.
An issue we seem to forget is that textile fabric fibers are much more fragile when wet. There is also the risk of bleeding of fabrics, especially if hand-dyed fabrics or batiks are used. If someone tells you they can clean it for you and you know they plan to throw it into a washing machine, please tell them "No thank you!"
Rule #2: Spot clean when needed
Keeping your quilt away from food, beverages, muddy paws, or anything else that is a potential for stains is also a good strategy for quilt care. Of course, we are still humans (or pets!) and spots can happen. If there is ever a spot on my quilt, I will try to gently spot clean. I use a very mild quilt soap called Orvus ($8.99 at Jo-Ann Fabric) mixed with distilled water and dab at the spot. You'll want to be cautious to never rub on the spot as it can damage the quilt fibers.
Now you may be wondering why I use distilled water. Distilled water is free of calcium and other minerals and impurities that your tap water may contain. Many times if your fabric has stained it is from these water sediments. Distilled water has many other cleaning uses for your home so it's handy to keep some around the house – you can purchase jugs of it at most grocery stores.
Rule #3: Use a vacuum and screen
If your quilt needs to be all-over cleaned, take out your vacuum and your work scissors. You will want to get your hands on a piece of nylon window screen and cut it to approximately 18×24". (If you don't have any of this lying around the garage, you'll want to make a quick trip to the home improvement store.) Wash the screen in warm soapy water and dry it well. Bind it off with masking tape around the edges to protect your quilt from snags or abrasions. Then, lay the quilt in question over a clean, dry table and place your screen over a section of the quilt.
Set your vacuum at the lowest suction setting, and using the hose and an upholstery attachment tool, carefully vacuum your quilt. Take extra care not to rub or apply too much pressure. When you are done with one section, simply move on to the next. Do not slide the screen though; you'll want to lift it up and place it in the next position.
This process should usually be done on a yearly basis, vacuuming both the front and back of your quilt.
Rule #4: Work with a professional
If you want to have your quilt thoroughly washed, it should be done by a qualified textile conservator. According to the Great Lakes Quilt Center, you may not want to wash your quilt if it contains any of the following: inked signatures, dyes that appear unstable, fabrics that are deteriorating, glazed or silk fabrics, woolen yarns with questionable dyes, or if it has never been washed.
Okay, but…
All that being said, sometimes there is still a need to wash a quilt at home. Dry cleaning is not recommended because it involves agitating the quilt in dry cleaning machine, and the solvents can damage the fibers and threads. A washing machine is not recommended either for the same reasons; hand washing is the ideal process here.
The GLQC recommends this process if you are going to attempt to wash your quilt at home (always test a small area of your quilt first to make sure dyes will not run):
Use a very mild detergent such as Ivory Liquid or Orvus (sold at quilt shops and some craft stores) and make a solution of a half-ounce of detergent to 1 gallon of distilled, filtered, or softened water.
Use a container large enough to accommodate the entire quilt at one time (some people recommend the bath tub)
Do not agitate the quilt in the water.
Rinse by pressing down on the quilt with the palm of your hand or with a cellulose sponge.
Remove excess water by pressing gently with clean white toweling or mattress padding.
Lift the quilt with a towel sling or with both arms so that the weight is evenly distributed. DO NOT lift by one edge or corner.
Lie flat to dry on a clean, non-porous surface.
Alternatively, if you just need to air out a quilt, you can do this by carefully hanging it on top of outdoor laundry lines or over clean, dry furniture that won't snag your quilt. Avoid hanging in direct sunlight, as the UV rays can cause damage to fabrics and dull or bleach colors.
So there you have it! Follow these rules of thumb and guidelines for cleaning to ensure your quilts remain in good condition to be treasured for years and years.
Happy quilting!
More in this Series:
Quilt Care Part 2: Labeling and Displaying Quilts
Quilt Care Part 3: Storing Your Quilts
References:
Museum of Florida History; Artifact Care/Quilts
The National Quilt Museum; Quilt Care
Great Lakes Quilt Center; Quilt Care
Get in touch! Leave a comment or email editor@nationalquilterscircle.com.