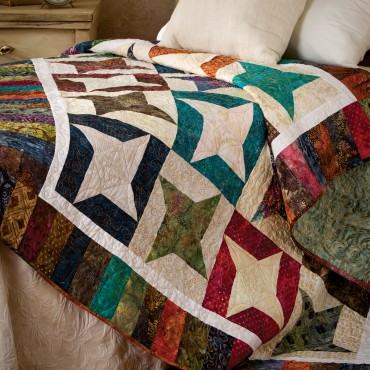 If you love traditional quilts, but are looking for a project that isn't just another simple square on square design, the Twirling Stars Quilt Pattern from AccuQuilt is exactly what you've been looking for. Quilters who have completed several projects will enjoy stepping out of their comfort zone a bit with this pattern that has quite a few Y seams.
Download the free pattern here
However, practice makes perfect, so if you're a beginner, don't let new techniques scare you off. Every experienced quilter will quickly tell you that perfect points only come through experience. And, the following tips will help you master precision piecing.
A Quick Overview of the Twirling Stars Quilt Pattern
This project is really quite simple to complete. You only need two dies to cut all the pieces to construct each of the 12 squares so you don't have a lot of different shaped pieces to join. And, because each block is a standalone piece, there are no lattice or joining strips. Each 12 inch block has a "twirling star" centered on a solid, contrasting background. If you prefer a patterned background or variegated color schemes, that works equally well with this pattern, so feel free to choose a blend of hues and shades that complement your furnishings or preferences. To showcase your stars, we recommend you don't use the same color for the star and the background, unless you're interested in creating a tone-on-tone effect.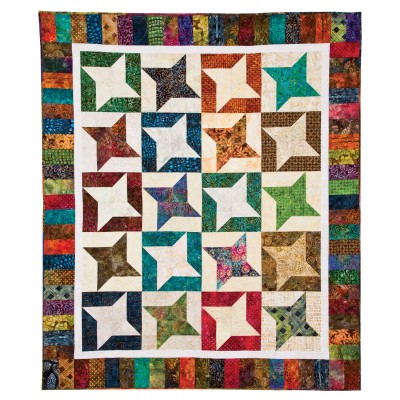 3 Tips to Get Perfect Points Every Time
As we mentioned above, consistently making perfect points takes practice. While new quilters often focus on sewing perfectly straight lines, many factors go into mastering precision points. Even slight differences in the seam width can lead to disaster, or at least slightly off-the-mark points. Another thing that affects the point appearance is cutting. When you cut one piece smaller or a tiny bit larger, your finished design may suffer. Fortunately, when you're using your Qube cutting system, every piece will be the same size and shape.
Beyond cutting, consider these three tips:
Press your fabric. It is a good idea to wash, press, and iron your fabric before starting a new project. This removes the sizing and allows you to start fresh with wrinkle free material. Press each seam before joining new pieces.
Pin for perfection. Most expert quilters pin everything. Don't be afraid to use plenty of pins to keep your pieces securely joined. Remember, too, that if you insert your pins with a sideways slant, the top may shift slightly, so check your pieces before you stitch.
Trim seams properly. If the pattern says to grade the seam, don't simply reduce the margin. Bulky seams can result in points that don't align properly.
Enjoy the Art of Quilting
We've pushed the point of perfection in this post, but quilting is a joy for most of us. Don't forget that perfection is a goal, not a requirement. Give yourself time to learn the art before you judge yourself too harshly if a point or two is less than perfect, especially if this is your first star project.
Happy quilting!