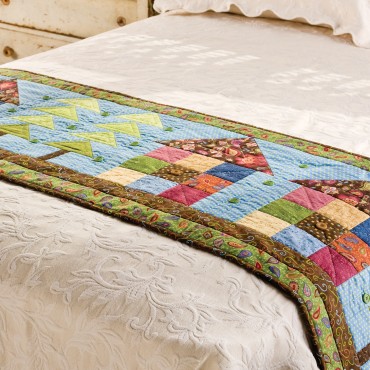 I love bed runners! They are a great accent for any bed and bedroom. The GO! Row House Bed Runner quilt pattern is a quirky, quaint runner that would accentuate any bedding. This pattern contains a variety of traditional patterns, fashioned to create a quaint neighborhood across your bed.

Click here to download this free pattern!

One of the most prevalent quilt square patterns in the runner pattern is the flying geese square. In this pattern they are used to create the trees that adorn the sidewalk between the row houses. The flying geese pattern is easy to create, using a rotary cutter and squares and diagonal cuts this part of the pattern goes together in a FLASH! The row houses themselves are created using the nine patch square pattern. This is a great little quilt square that is easily created using fabric strips that are cut, sewn together, and then cut into squares. The great part about a nine patch is the ability to mix and match colors and patterns of fabric in order to create something unique to your bed and your space.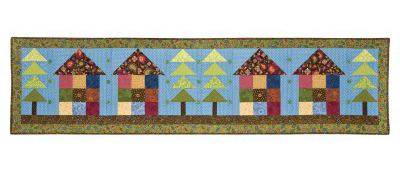 The versatility of this pattern is what drew me to it. While it is listed as a bed runner it could easily be modified to be used as a table runner as well. This particular pattern would look great on a table or even a cabinet. The only constraints on that would be the predetermined size. However, for the experienced crafter the

size and shape would be easily modified

, based on the measurements for the individual components of the piece.

The pattern itself is well-written and complete. It is also easily modified to fit the needs of the quilter. It is an appropriate pattern for beginners yet challenging enough to appeal to the advanced quilter. In addition, it is versatile enough to be used multiple times for multiple uses and changed simply by changing the colors and patterns of the fabrics chosen. I would highly recommend this pattern to anyone who is familiar with or would like to learn the flying geese pattern and the nine patch pattern. And you can give it a try too – head over to the good folks at AccuQuilt for a free download of the GO! Row House Bed Runner pattern. Happy quilting!