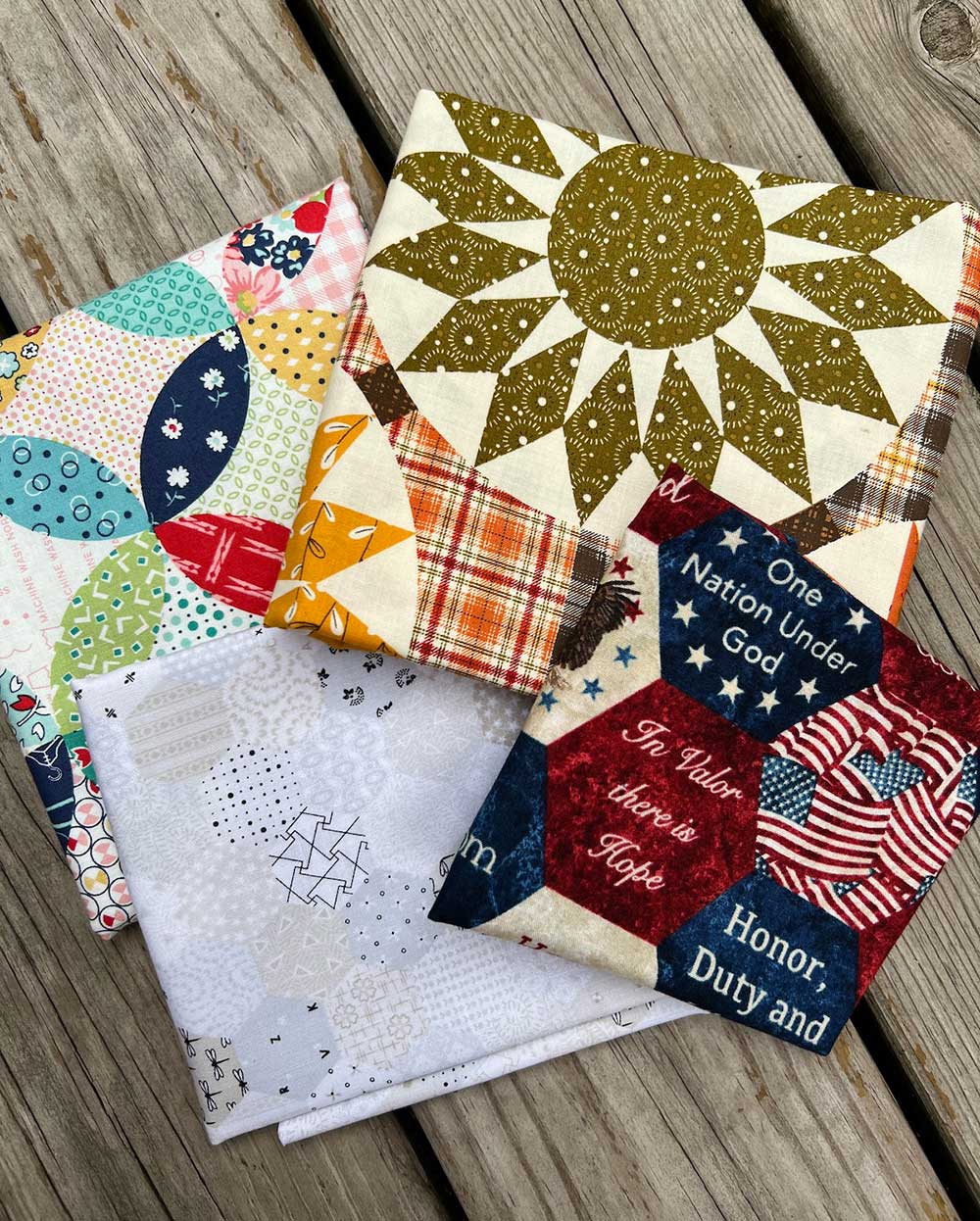 Is it really cheating? Or is it a challenge to find the perfect use for pre-printed patchwork? I see it as a patchwork pause—a time to breathe yet still be creative! Plus, those fabrics are just so fun, who could leave them in the quilt shop? They want to go home with you.
Always unroll the bolt and examine the detail of the design. Take into consideration whether the design is directional, where are the logical places to cut into the design for making blocks, and always (always) get a bit more yardage than you have estimated for any future project. These prints tend to sell out quickly, and if it speaks to you, it was meant to be.
This type of pre-printed patchwork can also be a great way to practice machine quilting. Many of us have perfected our piecing skills, but the machine quilting may be lagging behind. The walking foot can be our friend, and learning to plan a quilt path across a project is then the focus. Gaining valuable experience on how to pivot and backtrack carefully can make a quilted item look flawless.
Thread choice is something to examine. Is the goal to see the stitching? Then try a heavier thread like a 40 weight. If you would rather have the stitching just blend into the background, maybe a white, cream or light gray (or a dark thread for a darker pre-print) would be less noticeable. Also, using a finer thread such as a 50 or 60 weight would achieve this desired outcome.
Or, if you want a bit of shine added to the patchwork, you could experiment with a rayon thread. The last option could also involve using a monofilament thread. This is available in a clear or smoke color and is extremely fine. I would only advise using this on a table runner, placemats, or wall hangings. For items that will be laundered more frequently or tugged on such as a baby quilt, I would suggest using a cotton or polyester thread.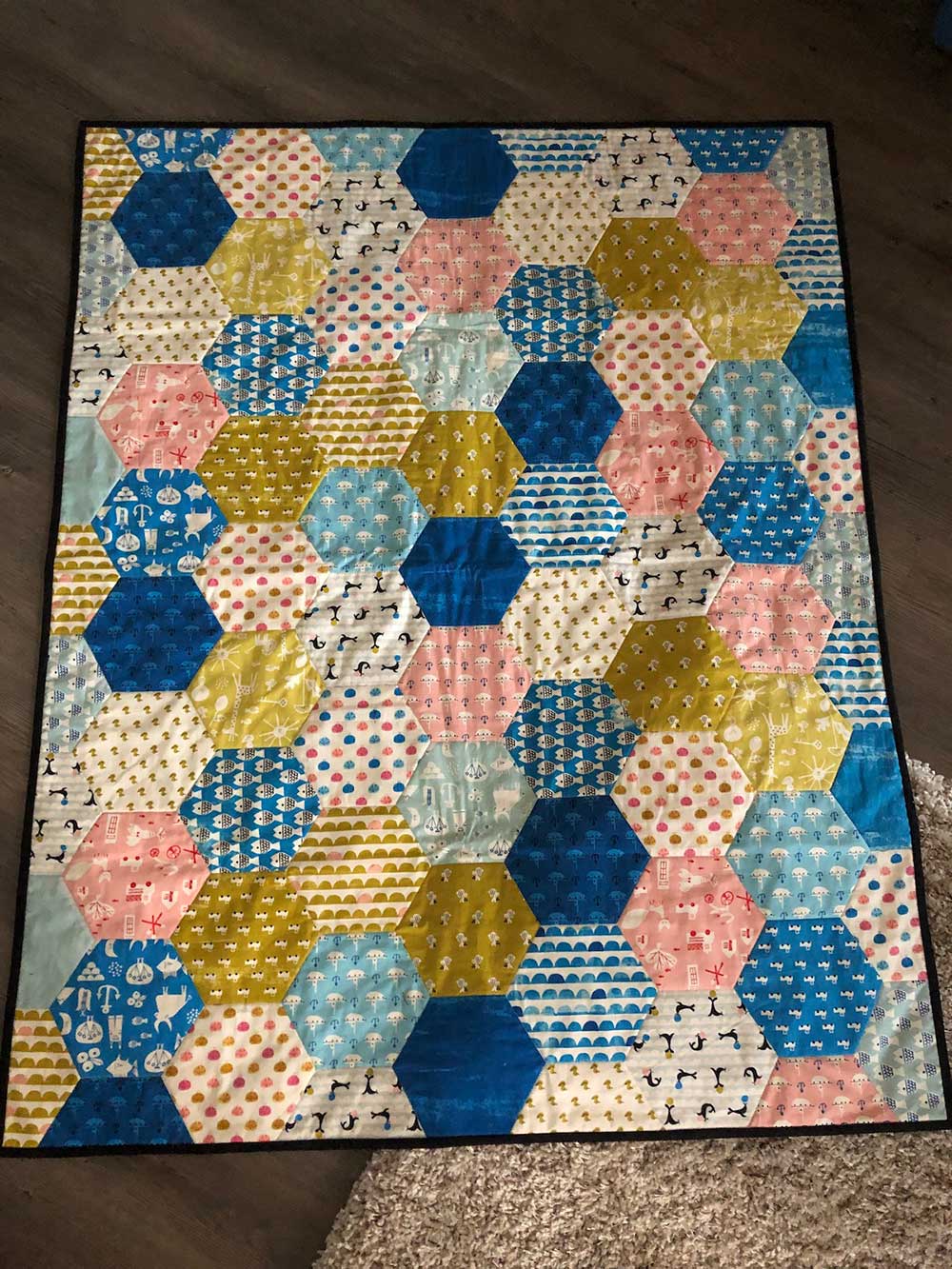 Convenience prints used for a quick baby quilt or a darling lap quilt still speak the language of caring. Whether you spent hours piecing a quilt top or selected just the right pre-printed length of yardage, your gift still says, "I'm thinking of you, and I had you in mind with every stitch." It's not the hours spent, but the love it contains. So, on your next trip to your favorite quilt shop or during your next online shopping excursion, don't disregard those pre-printed pieces you may have overlooked in the past.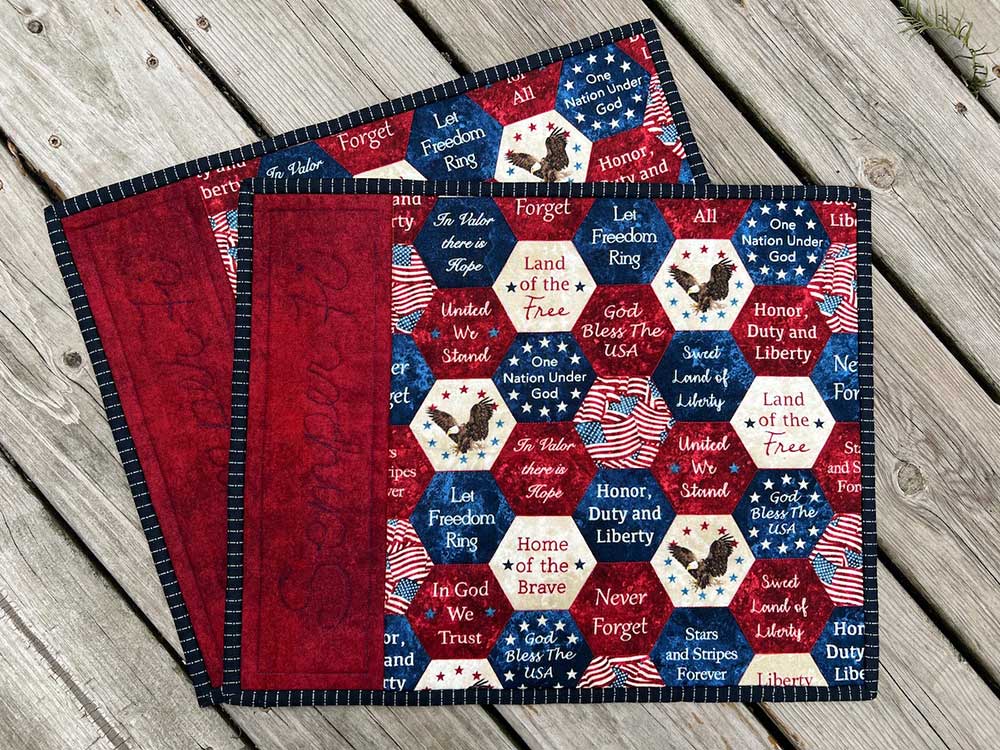 Semper Fi Placemats
Yardage (Set of 2)

1/2 yd pre-printed patchwork
1/4 yd accent (red)
1/2 yd backing fabric
1/2 yd binding
20" x 30" piece of batting


Cutting

(2) 14 ½" x 14 ½" squares (pre-printed patchwork)
(2) 4 ½" x 14 ½" rectangles (accent)
(2) 16" x 20" rectangles (backing; be aware of directional prints)
(3) 2 ½" x WOF (binding)


Construction
Select (1) 14 ½" square and (1) 4 ½" x 14 ½" rectangle. Join the accent to the left side of the 14 ½" square. Note: Be aware of directional prints when joining the accent rectangle.
Layer placemat top with batting and backing fabric using your favorite basting method.
Select a quilting thread that will either accent the pre-printed patchwork shapes or will blend into the design and not be noticeable. Next, select a pathway that allows you to work your way across the panel print with as little "back-tracking" as possible. Some is allowed, but try not to cross the same "seam" more than twice. Using a walking foot, integrated walking foot, or dual feed, work your way across the project. Note: I machine basted the outer edge of the accent portion before binding.
Trim the outer edge and apply binding.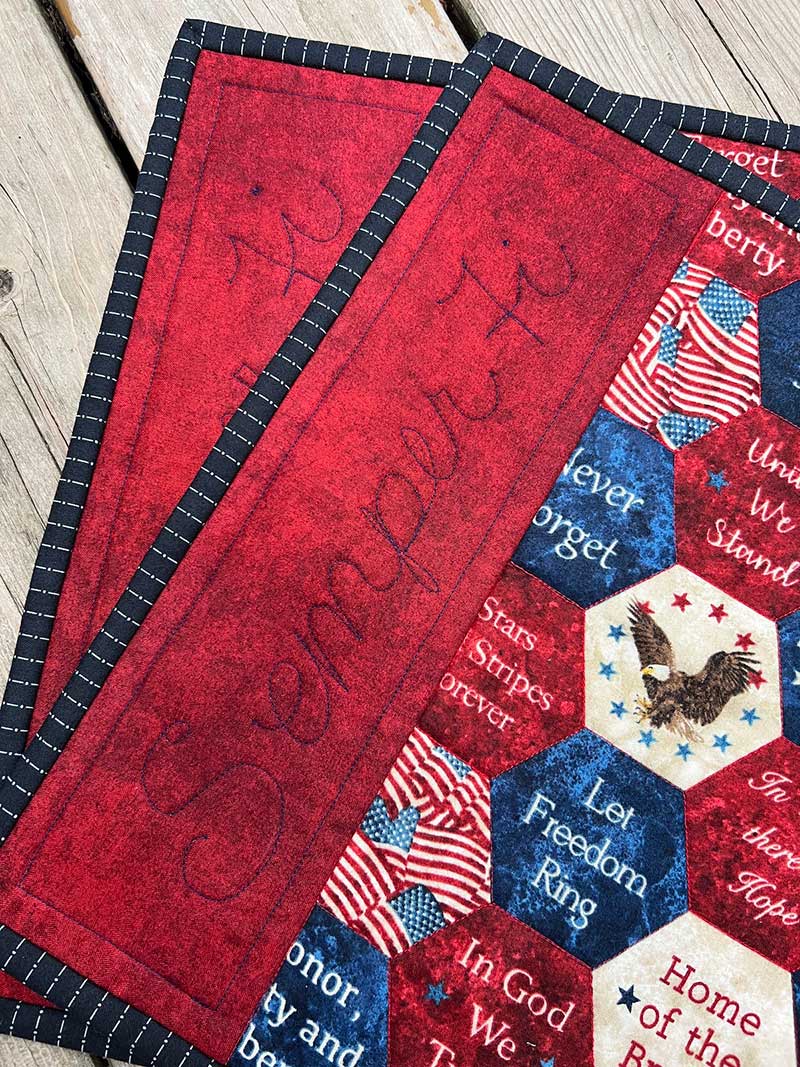 After binding, I stitched a "frame" in the accent area by simply stitching ½" from the outer edge of the accent fabric. Next, I free-hand quilted the "Semper Fi" message for a former US Marine. You can add any message, an appliqué, or more quilting—it's your choice.
Whether it's a gift or a quick project just for yourself, using pre-printed fabric isn't cheating! It's also about convenience.