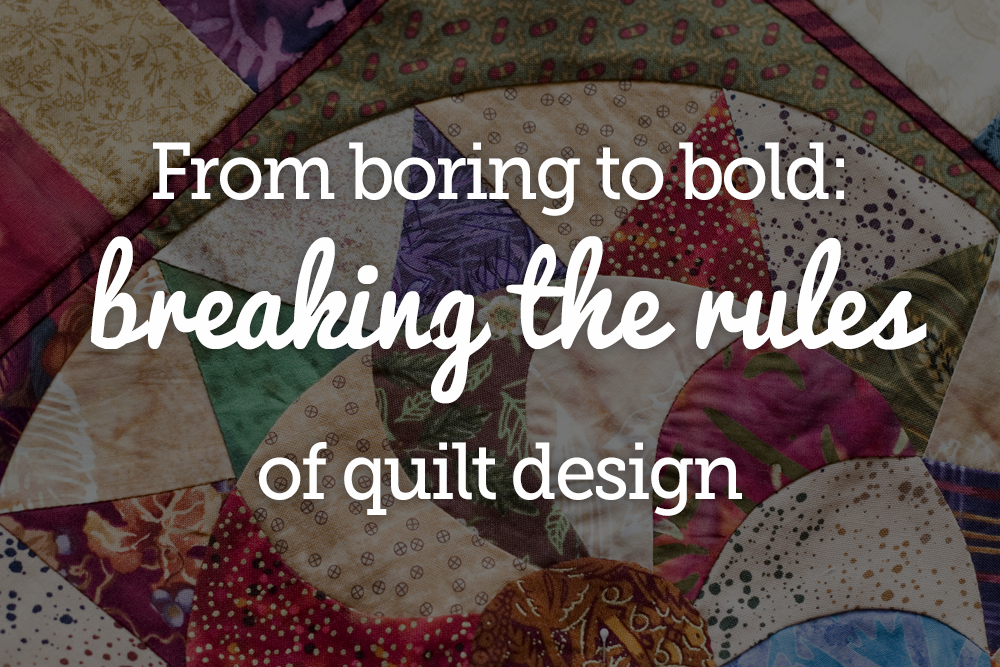 Have you ever looked through a quilt magazine and wondered why your quilts don't have that extra something like the ones on the magazine pages? The odds are pretty good that the quilter broke one of the hard-and-fast rules of quilt design. We're taught to follow the rules while we're growing up, so our eye naturally gravitates to designs outside the norm. If your quilts are looking a bit too boring and basic, use one of these techniques to flip the design around and create some design interest.
Sometimes Mistakes Aren't
If you make a mistake when sewing a block together, don't be too quick to grab the seam ripper. If it's just a matter of using the wrong fabric, and not a truly wobbly seam, keep that block the way it is and see how it looks with the rest of the batch. You might find a pattern you want to use more than once.
Related video: How to Choose a Quilting Fabric
Stop Using Boring Backgrounds
How many quilts have you seen with patterned designs on white backgrounds? Look at some Amish quilts, and the background is a solid black. White (or cream) and black are just about all you see when it comes to quilt backgrounds. What if you used a delicious raspberry color for a background? How about a regal purple? If you're not feeling quite so bold, why not use icy hues of mint or gray-blue?
Related video: Choosing Between Black and White Quilt Backgrounds
Use Unexpected Fabrics
Some quilt patterns just lend themselves to certain types of fabric. Think of a log cabin quilt and you see plaids or small flowered designs. Wedding ring quilts are mostly made of fabric with small prints like those created during the Great Depression. Shake up your quilt top by using a fabric no one would ordinarily choose to put there. How about a Baltimore Album quilt made of neon colored fabrics? A Dresden Plate with bright batiks? Do your next gift baby quilt in black and white fabrics with primary colored ribbons. Just look at what's usually done, then turn it on its head.
Related video: Composing Your Quilt Design
Skip the Borders
Sure, a border is like a picture frame. But have you looked at a photograph lately? They don't have borders anymore, either! Run your pattern all the way to the edge, then put a matching or contrasting binding all the way around. Obviously this only works for quilts with allover designs. Or does it? It's your quilt; it's up to you to decide.
Related video: Fun Quilt Border Ideas
If you're making an intricate quilt for a show with a book full of rules, you might want to follow the regulations and make a traditional piece. But not always. The most striking quilts around were created by quilters deciding to do what they wanted instead of what everyone else was doing.
The quilt police are a myth. You can do whatever you want, then tell everyone it's an intentional design element. As long as you like it, it's the right move for your quilt.
Have something to add? Leave a comment or email editor@nationalquilterscircle.com.