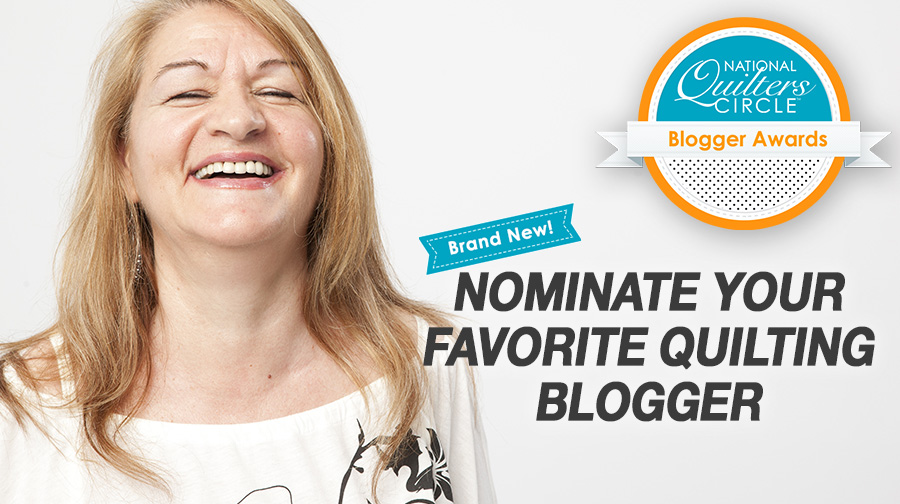 Big news, quilters! National Quilters Circle is pleased to announce the first ever Blogger Awards!
What are Blogger Awards, you ask? It's a fun new online competition where you get to determine this year's best quilting blogs. We love reading what's new and exciting in the quilting community by checking out all the latest blogs, and we know you do too. So now's your chance to pick your favorite!
A lot of things can determine a great blog. Maybe your favorite blog has great tutorials on tricky quilting techniques, or helpful time-saving tricks. Or maybe your favorite always features wonderful photos and inspiration that you enjoy browsing through. Or perhaps your favorite blog is all about fun and personality! Always sharing a funny photo or story to keep quilters laughing. We love them all!
How It Works
The National Quilters Circle Blogger Awards runs from April 15 to May 15, 2015. During the first two weeks, you can nominate your favorite blogs in seven categories. You can nominate as many blogs as you like for any of the categories. The top four blogs from each category will move on to the final round of voting and be eligible for the top prize and honorable mention. Your nomination is important and only counts once!
Here are the nomination categories:
• Best Traditional Quilting Blog
• Best Modern Quilting Blog
• Best Quilting Patterns Blog
• Best Fiber Arts Blog
• Best Art Quilts Blog
• Most Humorous Blog
• Best Overall Quilting Blog
As a special thank you for submitting your nomination, you'll be entered for a chance to win a free Annual Premium Membership to National Quilters Circle!
Click here to nominate a blogger.
What Does the Winner Receive?
The blog with the most votes at the end of the competition will win an Annual Premium Membership, an NQC Blogger Award Winner badge to display proudly on their blog, and a spotlight feature on the National Quilters Circle blog. Not to mention great exposure for their blog, plus of course: bragging rights!
So what are you waiting for? Nominate your favorite blogger by following the link below, and stay tuned for the voting to start. Happy quilting!
Click here to nominate a blog and to learn more about the 2015 National Quilters Circle Blogger Awards.
#NQCAwards
Get in touch! Leave a comment or email editor@nationalquilterscircle.com.

3

Responses to "Announcing the 2015 National Quilters Circle Blogger Awards"
Marti Walkup Rajotte