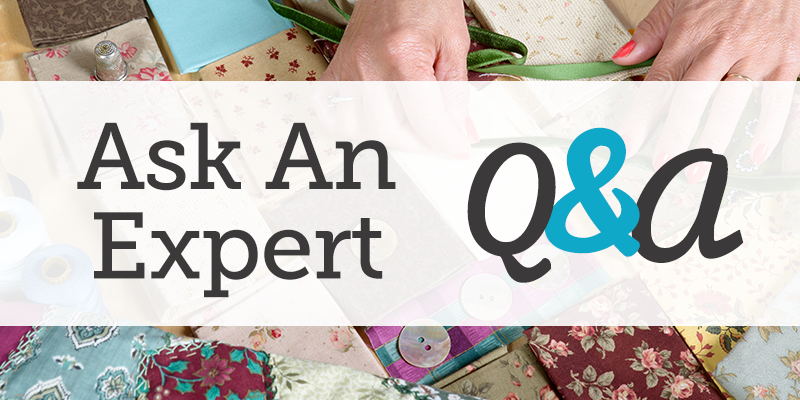 If I want to put a ruffled border around a rectangular baby quilt, do I cut the material on the bias or straight of grain? Any other tips for the best way to go about adding a border like this? Any help you can give me will be greatly appreciated. Thank you!
Submitted via Facebook
You absolutely can add a ruffled border to your baby quilt! Those ruffles will add a wonderful whimsical touch to the finished piece. There are a few things to keep in mind when you plan your border; you'll need to consider how you'll finish the ruffled edge and when to add the border for best results.

First off, a ruffled border does not have to be cut on the bias. Since you'll be gathering the fabric you'll be including some added ease and won't need the extra flexibility that cutting on the bias provides. You will need to think about how you'll finish the edge of your border before you cut. You have several options, including:


A fully-folded border, where you'll cut a strip that is twice the size of your desired finished width plus seam allowance, then fold in in half and press before gathering.
A hemmed border, which would be cut to the desired width (plus a seam allowance) + ½" for the hem. You'll need to hem this border before ruffling it.
A finished edge border, created with a rolled hem or serged finish, which can be cut to the desired width plus seam allowance.
You'll create ruffles by cutting a strip that is the width you want using the guidelines above, and anywhere from 1½ to 2 times the length of the perimeter of your quilt to create the border. The more you gather the strip, the thicker and more lush the ruffle will be. You can apply the ruffled border before or after quilting, depending on the look you want and your skill level. Make sure to share a picture with us if you try this technique!
Happy quilting,
Samantha
Related Video – Fun Quilt Border Ideas:
Do you have a quilting question you'd like answered by an expert? Email your question to editor@nationalquilterscircle.com or reach out to us on Facebook.
Please note: questions may be edited for clarity and relevance. </P